Redeemer West Side Update
In her memoir Wild Cheryl Strayed recounts her story of hiking from one end of the Pacific Crest National Scenic Trail to the other; a journey in search of peace, healing, and redemption. It was a journey inspired by advice given to her by her mother which was to always put herself "in the way of beauty."
If it is true (as Christians believe) that the beauty of a place like the Pacific Crest Trail is a signpost to God's beauty, then we must follow the advice of Ms. Strayed's mom (and scripture) as we reenter the more frenetic pace of Autumn and put ourselves in the way of God's beauty. Practically speaking, that means building a daily habit of exposing yourself to the beauty of Jesus. I usually follow The Daily Office Lectionary because it gives voice to the full expression of my emotions (Psalms) and the fullest expression of what it means to be human (Jesus in the gospels). So make the time each day to soak in the beauty of God in his word as you journey through the world in search of peace, healing, and redemption.
One thing I ask from the Lord,
this only do I seek:
that I may dwell in the house of the Lord
all the days of my life,
to gaze on the beauty of the Lord
and to seek him in his temple.
– Psalm 27:4
In Christ,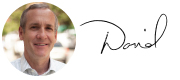 Rev. David Bisgrove
Redeemer West Side Senior Pastor
---
Meet Heather Isiminger
W83 Events Manager

I like the fun and unique challenge of making everyone feel welcome while making sure everything is running smoothly.
How long have you been at W83?
I've been here for almost two years. I originally came to W83 from an event planning and catering company, where I was coordinating event logistics for private clients throughout different venues in NYC. In my previous work life before that, I spent almost a decade working in research and due diligence investigations.
What's a regular day at work look like for you?
A regular day at work looks like giving a walk-through of W83 and having a chance to show people the space, responding to inquiries, scheduling logistics for upcoming events, fielding questions from guests when they're here, drafting contracts, checking in with event guests and giving out subway directions and painter's tape on demand.
What do you like best about your work?
What I really enjoy the most is having the opportunity to work with people directly, see what the vision is for their special event and then helping to make that vision come to life at W83. No two events are ever the same, and since we're a multi-use space, there are often multiple events happening in the building at the same time. I like the fun and unique challenge of making everyone feel welcome while making sure everything is running smoothly. When we have a busy day at W83, with anything from weddings, to concerts, to classes, there's this great buzz of energy that fills the space and you feel like you're really connected to a larger community and the creativity of New York City.
What do you like to do when you're not at W83?
I love to spend time with friends and family. I'm currently training for a marathon in the fall, and when I'm not running around with that, I enjoy going to different live music venues and checking out restaurants. And I just started working with a great organization, Back On My Feet, a national organization that combats homelessness through the power of running, community support, and employment and housing resources. They just opened a new chapter in Brooklyn, and it's been amazing to be part of what they're doing. (Find out more about them, they are one of HFNY's affiliates!)
What's your favorite sports team?
The New York Yankees. And the New England Patriots. Yes, you can judge away. And I'm a big Liverpool soccer fan.
What's your favorite book?
A Tree Grows in Brooklyn by Betty Smith. I fell in love with that book when I was 12 years old, and I turn to it every so often even now and re-read it. It's so beautifully written. I love the way the lead character, Francie, thoughtfully describes everyone she encounters. She is a character full of depth, curiosity and soulfulness, and you feel like as Francie grows up you're on that trip with her as she becomes more mature and wiser about the ways of the world.
What do you want people to know about W83?
There's always something happening here, often with events open to the public year-round, for free. That, and our team truly cares about the opportunity to connect with our neighbors and to make people feel welcome while they are here. It's a hidden gem on the Upper West Side.
---

• Attend Open Door Fall semester training, Sep 11: Learn more about the opportunity to teach ESL, TASC (math), and middle school math classes for the local adult immigrant population.

• Sign up for West Side Dads, Sep 14: This is our first meeting of the year. Dads with children of all ages are welcome to attend to discuss what it looks like to raise our families in Christ. Let us know you're coming and sign up for childcare.

• Support adults with mental disabilities, Sep 14: Build relationships with residents at The Rita Berger House through events and crafts on September 14 from 1 to 3 p.m.

• Love your church and neighbors, Sep 15: The annual Volunteer Fair is taking place on Sunday, September 15. Tons of opportunities to love others with be available through the Diaconate, HFNY, Sunday Service Teams, Children's Ministry and Youth Ministry.

• Invite your friends to an art gallery opening, Sep 19: At The Gallery at W83, Rachel Martin brings the working class to the foreground, emphasizing the dignity and value of their work. Event is free at W83 so invite your friends.

• Serve Sunday evening meals at All Angels' Church: Volunteers will help to setup tables and chairs, serve meals to guests, and clean up afterwards.

• Join the next Social Discussions, Sep 19: We'll be talking hospitality and the role it plays in relationships and community and what this biblical practice looks like in the city.

• Hang out at a West Side Social, Sep 19: Whether you attend the Social Discussion that night or not, join us at e's Bar (right up the street from W83) to hang out and get to know each other over appetizers and a cash bar.

• Register for Practices for Christian Formation, Sep 22: This class broadens our understanding of the Christian story, while also discussing practices and habits that can affect our spiritual growth.

• Attend Healing for Wives Hurt by Infidelity, Oct 1: This 10-week group will process the heartbreak women experience from spousal infidelity, whether because of affairs, sexual addiction or the use of pornography.