Redeemer West Side Update
In his book entitled "Culture," Terry Eagleton writes:
That we can improve ourselves suggests that there are creative powers within the self; that we need to do so tells a less sanguine tale.
The quote captures the reality of the human condition that there exists, in all of us, a gap between who we aspire to be and who we are. We seek to live out of the "better angels of our nature" and become people of virtue. Yesterday, I began a sermon series that launched our year-long theme that seeks to help us close that gap as we focus on the idea of "spiritual formation," which, for the Christian, means living a life that increasingly reflects God's image (Genesis 1:26).
That process is the byproduct of many factors, including implementing what we are calling the "practices" of devotion, worship, accountability, hospitality and rest. (To learn more click here) This is not an exhaustive list of practices, but one that we believe, when implemented both individually and in community, will yield fruit in your life that will not only draw out those "better angels," but will drive you to better love your neighbor and city.
Thank you for joining me in this journey.
And we all, who with unveiled faces contemplate the Lord's glory, are being transformed into his image with ever-increasing glory, which comes from the Lord, who is the Spirit. — 2 Corinthians 3:18
In Christ,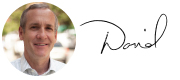 Rev. David Bisgrove
Redeemer West Side Senior Pastor
---
Evan Spence
Usher Volunteer
My involvement with the usher team allows me to give back and be a blessing to the church and newcomers.
Evan Spence grew up in Indiana and spent time in Los Angeles, Chicago and Austin before moving out to Long Island. He spends his time working as an editor for documentary style television. Though it often feels like a hobby, he does recognize a unique opportunity within his industry. "The thing I find most exciting is that I have opportunities to be the light of Christ through my industry in the most influential city in America."
In addition to his work, he also enjoys sailing in Manhasset Bay and fish with his kids on the town dock in Port Washington.
Evan has been attending Redeemer for about a year and serves on the 11:30 a.m. usher team. "My involvement with the usher team allows me to give back and be a blessing to the church and newcomers." He hopes that, through serving, he can help create a welcoming atmosphere for those who may be hearing the word of the Lord for the first time.
---
• Hurricane Relief: The Redeemer family of churches is partnering with churches in impacted areas to raise funds for relief efforts and assistance. We will have resources to give up at some point during the week. Please check back for more info.

• Get tickets for our next Agora conversation: You are invited to our next Agora conversation on October 19. The ONE Campaign and Agora are grateful for the opportunity to host Michael Gerson and Tim Keller to discuss some of the issues contributing to global poverty, ways we can engage in the fight against it, and the moral vision necessary to unite our collective efforts.

• Join a Beta Group: Beta Groups are brand new community groups that are starting up the week of September 24 and will meet for just seven weeks. If you are not yet in a community group, this is a great time to join one! If there isn't a Beta Group near you, consider joining an on-going community group.

• Attend Operation Exodus Benefit Concert: New York Philharmonic cellist and Redeemer West Side member, Nathan Vickery, with pianist, Tom Jennings, will perfrom works by Rachmaninoff, Schnittke, and Jennings. All proceeds benefit HFNY affiliate Operation Exodus.

• Invest in the next generation: Do you have an interest in serving the next generation of New Yorkers? Come alongside middle and high school students at Redeemer as they experience the grace, hope and need of the gospel.

• Sign up to recieve W83's monthly arts email: From art exhibits to concerts to special speakers, there is a lot happening at W83 Ministry Center throughout the week! To stay up to date with community events open to the public at W83, feel free to sign up for our monthly email.

• Attend Job Search Skills Training: Actively seeking a job? The Diaconate's Skills Training starts September 14. Learn skills for a successful job search including job fit assessment, career search strategy, resume writing, LinkedIn, mock interviewing and salary negotiations.

• Last chance to sign up: Last chance to participate in the Charity Bike Ride! Sign up today to join the ride on Sept. 16! Not a rider but want to support #TeamHFNY? Help them meet their $90K match by giving at hfny.org/bikeride.

• Attend info session for Jobs for Life: Jobs for Life provides job skills training curriculum for homeless men and women. Champions are needed to mentor students one-on-one through 10-week program. Attend info session to learn more.

• Mentor youth through Leadership Acadamy: Attend orientation and a training retreat at Mont Lawn Camp to become a mentor at Montlawn Leadership Academy. Leadership Academy helps at-risk youth in NYC break the cycle of poverty and become leaders of tomorrow.