Redeemer West Side Update
Reading, studying, and preaching through the parables of Jesus this fall has reminded me of his persistent call to repent and follow him. Repentance was a word used in the Middle East to describe the act of turning around when one realizes they have been going in the wrong direction. The parables of Jesus serve as cosmic GPS stories for a world going in the wrong direction. They are highlighted by Jesus' words "Repent, for the Kingdom of God is at hand" (Matthew 4:17). The parables challenge us to turn around and follow him in a way that is often at odds with the stories around us, reminding us, for example, that to be fully human means loving our enemies and giving away our money in generous proportions, especially to the poor. And they remind us that following Jesus means not just knowing the truth but living it. Jesus is the way, truth and life. This principle is captured by Ivan Illich who wrote:
"We can only live changes: we cannot think our way to humanity. Every one of us, every group, must become the model of that which we desire to create."
The church is the Body of Christ and is to model his life to one another and our neighbors. The parables help us do that by calling us back to the story of Jesus and his Kingdom.
The people living in darkness have seen a great light; on those living in the land of the shadow of death a light has dawned." From that time on Jesus began to preach, "Repent, for the kingdom of heaven has come near." — Matthew 4:16-17
In Christ,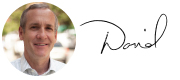 Rev. David Bisgrove
Redeemer West Side Senior Pastor
---
Andrew Oliver — Do For One
So if we say that we believe that people are made in the image of God, the best way to live that out in action is by expressing love and kindness and a willingness to receive from people in your life, particularly people who have nothing to give you in return.

W83 Ministry recently interviewed Andrew Oliver with Do For One, a HFNY affiliate with a mission to bring dignity and hope to people with disabilities ("partners") through the power of relationships. Do For One is just one of the many neighbors who use space at W83 for meetings and events.
How did Do For One start?
I was working in a state-run agency that helped people with developmental disabilities to get jobs, and I was deeply inspired by the first person I worked with, Tony. He died in 2014, and he had been institutionalized at the age of 6. He became a close friend of mine, and as I got to know him and his wounded soul, his history, and all the things he'd gone through, I learned so much about what it means to be a human and what life is about. And I really learned the value of relationships, because so many relationships were taken away from him over the course of his life. There are a lot of different people and experiences that led me to want to start Do For One, but I always focus on him because he was the main person, and God was breaking through in my own life in personal ways, too. So looking back, the timing was very much divinely orchestrated, because I was experiencing the love of God personally and it overflowed with Tony in a way that made me feel called to be a voice for people who have no voice. I learned everything I could from a program called called Citizen Advocacy, and decided to go for it: build a relationship-building program for people like Tony, to help more people experience family-like relationships.
How did you get involved with W83?
In 2016, we became an affiliate of Hope For New York. There was a lot of emerging interest in our work on the UWS through connections of HFNY. Volunteers from HFNY joined us, and their friends joined and there was momentum building there, so it made sense to look into what to do about that, how to foster that momentum and guide it. Someone from HFNY told us how we could rent from you all.
What does Do for One do here?
We have what we call community gatherings, to support Do For One relationships, and also to foster new involvement, both from the disabled and non-disabled side of the community. We use the space to host those gatherings. They include food, desserts, games, music, conversation. There's very little program agenda. It would feel like a group of friends getting together, and it's designed intentionally that way so that people don't feel like they have to be somebody that they're not. We really just try to keep people at the forefront, and just talk to people wherever they're at, whatever is going on with them in life at the moment. What's beautiful is that it's led by whoever a person is. It's a wonderful thing to see that each person and their personality, what they bring, that is what the night is. There's no one person trying to dictate an atmosphere or expectations to be or act a certain way that everyone needs to fit into.
How have you seen Do For One change people's lives?
We see people with developmental disabilities who now have relationships where the person is in their life purely voluntarily, freely given, no boxes that need to be checked: they're there because they love this person. We have seen a lot of emotional transformation in people's lives because they have a safe person, who isn't there to fix them. Because of the sense of confidence that gives, we've seen people with developmental disabilities make more courageous choices for themselves, believing in themselves more, believing that more is possible. We've seen parents of the people we serve have a greater hope for their child's future. And of course there have been some people who have worked with their partner on interview prep, and one person recently got a job. We've seen the mutual transformation in these relationships in the sense that the more privileged person in the relationships has also been transformed, in realizing their own vulnerability and brokenness. Finding that actually, the person with developmental disability needs my help, but also I need their help, I have something to receive from them. And in turn, that increases the sense of identity that that the person with disability feels. They have not only someone who loves them, but somebody to love.
What have you learned in your own work with Do For One?
I think a big challenge I face personally, leading a nonprofit that does what we do, is that I can't get caught in comparison. When my heart goes there, the temptation to produce something big or easily measured will kick in, and I recognize that I have the capacity to recreate the same problems that people with developmental disability are oppressed by, which is institutional thinking. So I've learned I have to take care of myself spiritually, so I can resist those temptations. And I've delighted in the fact that we have core group leaders that lead the Upper West Side gatherings and other neighborhoods we reach and work with me as we support relationships, people who are in this quest with me. It's kind of interesting when you start something, and you say these things to other people, and it catches on. They start talking like that, and it reminds me that I need to hear it, too. People are learning so much that they're actually leading me and keeping me accountable, too.
What do you want people to know about Do For One?
I want people to know that on a very practical level, we are a relationship-building program. We don't strive to do anything more than that. And I think on the more theological or philosophical level, the most powerful thing that we can do is live out what we believe through personal relationships. And that's the hardest place. So if we say that we believe that people are made in the image of God, the best way to live that out in action is by expressing love and kindness and a willingness to receive from people in your life, particularly people who have nothing to give you in return.
How do people get involved?
We have seasonal info sessions. Our next one is actually in your building, December 2, Monday night, from 6:30 - 8:30 p.m. We recommend that as the first step for anyone: to come and hear the fuller story and understand the scope of the work and to meet some of us. And they can expect that the follow up invitation would be to have more conversations with us and possibly come and visit us at a community gathering.
Learn more about Do For One and register to attend the info session on December 2 here.
---
• Nominate members to serve: Nomination season is almost over! Through Nov 11, members are encouraged to nominate qualified and mature Redeemer members to serve on the Diaconate or as and Elder.

• Trick-or-Treat at W83: Swing by W83 to say hello to West Side and W83 staff, show off your creative costumes, and grab a few pieces of candy!

• Sort and pack donated materials for communities in need, Nov 2: Join World Vision to sort and pack donated materials that will be distributed to communities in need in the South Bronx on Saturday, Nov 2 from 10 a.m. to 2 p.m.

• Learn about meditative prayer, Nov 3: Have you ever tried meditating between Bible reading and full out prayer? Join our new class How to Pray with the Bible next Sunday to learn more about meditative prayer and to give it a try.

• Provide childcare for teen moms at YoungLives Manhattan Campaigners, Nov 4: YoungLives' mission is to introduce teen moms to Christ and help them grow in their faith. Volunteers will be helping with a range of duties from serving food to childcare during YoungLives bible study.

• Register for Marriage Renewal, Nov 5: A better understanding of the Bible story shows us where we are in the narrative and affects how we conduct relationships. Learn more about how this impacts your marriage at the second class of Marriage Renewal.

• Attend info session to support local families in crisis, Nov 5: Learn how to serve overwhelmed families effectively! Attend a Safe Families info session on Tuesday, Nov 5 from 6:30 to 8 p.m.

• Sign up for Practices for Christian Formation, Nov 10: Gain a deeper understanding of the greater story we are a part of as well as practices we can build into our lives as Christ's love forms us. It's also part of the membership process.

• Ushers needed at all services: Usher teams welcome people to service, pass out bulletins, and help visitors find seats. In order to serve the church well, each team needs 30 volunteers each week. You are needed! Serve just once a month during one service.

• Register for Missional Living, Nov 14: Tim Keller and Rebecca McLaughlin will talk about what it means to be a disciple in today's culture and how we can effectively share our faith in spite of tough questions and misconceptions about Christianity.