Redeemer West Side Update
One of Jesus' best known sermons is one where he addresses a common human affliction, worry (Luke 12:22-34). As Corrie Ten Boom wrote:
Worrying is carrying tomorrow's load with today's strength - carrying two days at once. It … doesn't empty tomorrow of its sorrow, it empties today of its strength.
Jesus understood that worry, at its core, was seeking our value ("do not set your heart," v29) in the things of this world instead of God's love and care for us. So, he gives us a prohibition ("do not worry"), an alternative command ("but seek God's kingdom"), and the underlying power to obey him ("your Father has been pleased to give you the kingdom," v32). It's a fierce and comforting logic in which Jesus is saying, "Why worry about the things you already have?" The grace of God (he's given us the kingdom) is the source of the power of our character change. Treasuring what God has given us through his Son changes us in such a way that reduces our anxiety while, at the same time, increasing our generosity.
Sell your possessions and give to the poor. Provide purses for yourselves that will not wear out, a treasure in heaven that will never fail, where no thief comes near and no moth destroys. For where your treasure is, there your heart will be also. — Luke 12:33-34
In Christ,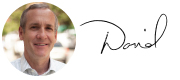 Rev. David Bisgrove
Redeemer West Side Senior Pastor
---

November is Inspire Mercy Month.
The primary goal of deacons and deaconesses is to offer care to our members and regular attenders who find themselves in challenging circumstances.
To nominate a member, please visit redeemer.com/nominate
---

• Nominate members for Elders and Deeks: Nomination is happening! Until the end of November, members are encouraged to nominate qualified and mature Redeemer members to serve on the Diaconate or the Session. Nomination form is available online or in the app.

• Registration closes Tuesday for the Gospel Identity Conference: You still have the opportunity to register for the Gospel Identity Conference this weekend. We'll explore the differences between a modern identity and a gospel identity, and the practices to help grow a gospel identity.

• Join HFNY to provide toys to families this Christmas through His Toy Store: Give to provide toys for 1,960 families with limited financial resources at 12 pop-up stores across NYC where parents can choose new toys for their kids. Visit hfny.org/hts to help stock stores by Nov 27!

• The Youth Group is selling pies this Sunday: Each year the Youth Group bakes over 400 pies and donates 100 to The Bowery Mission. The remainder go to you! Proceeds go toward the Diaconate, the youth group scholarship fund, disaster relief in Puerto Rico, and Urban Promise. Stop by to support the Youth Group!

• Support families in crisis with HFNY, Nov 20: Safe Families for Children seeks to reduce foster care numbers by offering care and support to isolated and overwhelmed families. Learn more at an info session on Nov 20 from 6:30 to 8:30 p.m. Register online.

• Volunteer at Birthday Party for Jesus: Redeemer's WS and LSQ Children's Ministries need your help! Volunteering at Birthday Party for Jesus is a fun way to connect with others at Redeemer. There are many areas and time slots to choose from. Sign up at westside.redeemer.com/birthdayvolunteer.

• Join CFW for The Art of Storytelling & Public Speaking in Business on Dec 11: Back by popular demand, this workshop will focus on how to connect to employees and clients and be led by AdamWade whose comedic storytelling has been lauded by The New York Times, The Village Voice, Newsweek and New York Magazine.

• Pray with HFNY through a neighborhood devotional: Read about the needs of our neighbors in Flushing, Queens and be challenged and encouraged by this devotional from pastor Robert Calabretta of King's Cross Church in Flushing.

• Download the new Redeemer app: Register for events, manage your giving, receive daily devotionals and more in the new Redeemer app! Available for Apple and Android phones.