Redeemer West Side Update
Last week I read one of the Apostle John's letters which encourages his readers to "see what great love the Father has lavished on us." (1 John 3:1) This exhortation is a reminder of the different types of vision we have. There's the seeing where the optic nerve transfers visual information from the retina to the vision centers of the brain via electrical impulses. But John is referring to the eyes of the heart (Ephesians 1:18) that apprehend beyond the mechanical seeing; a "seeing" that looks at a mountain and sees the truth that the mountain is not just green but beautiful. This is what John exhorts us to see, the truth of God's lavish love for us. It is walking by faith and not by sight (2 Corinthians 5:7). Thomas Merton reminds us of the importance of seeing with the eyes of faith when he writes:
There is no greater disaster in the spiritual life than to be immersed in unreality, for life is maintained and nourished in us by our vital relation with realities outside and above us
The greatest of all realities is the love God has lavished on us through the gift of his Son, who gave his life as a ransom for us, and sending his Spirit to keep us alive to his presence. This "seeing" happens through Christian community, prayer, worship, and service. So as you start another week, take time to open your eyes to the reality of God's love for you and remember who you are, his beloved.
See what great love the Father has lavished on us, that we should be called children of God! And that is what we are! – 1 John 3:1
In Christ,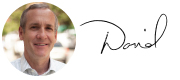 Rev. David Bisgrove
Redeemer West Side Senior Pastor
---
---

• Volunteer on a Sunday Usher Team: We have a need for Ushers to serve at all services. Did you know that usher teams need 30 volunteers each week to serve the congregation? Join this amazing community by serving just once a month. Have fun. Meet new people. Serve your church.

• Attend a training with HFNY for Jobs for Life, May 8: Learn more about serving at The Bowery Mission's 10-week Jobs for Life class for formerly homeless men currently in the recovery program. Register online.

• Learn about The Early History of the Black Church in NYC, May 8: The stories of the first black pastors and congregations in the Presbyterian and Episcopal traditions (late 18th-early 19th century) are often a neglected part of the history of the Afro-American church.

• Register for the last Philip Series class, May 9: The book of Job presents a bothersome view of God that is often confusing. How do you trust God even when life isn't fair and you are suffering?

• Serve lunch with HFNY through Project FIND: Serve lunch to elderly neighbors through Project FIND on W. 73rd and Amsterdam on Sundays from 11 a.m. to 1 p.m. Register online.

• Prayfully consider supporting the Diaconate, May 12: Once a year the Diaconate takes a special offering to replenish the funds set aside for the mercy and care of our congregants. Consider supporting the ministry of the Diaconate by contributing a special gift to the Mercy Fund.

• Join the next Agora conversation, May 14: New York author and illustrator Vesper Stamper discusses her graphic novel, What The Night Sings, which is about a girl who survives the Holocaust and seeks to find her voice as a singer again. An art workshop will follow the discussion.

• Register for the last Marriage Renewal class, May 15: Rev. David Bisgrove explores the paradox found in the biblical understanding of marriage. $10 goes toward the dinner we will be enjoying together. Register online.

• Attend a Safe Families info session with HFNY, May 21: Learn how you can come alongside overwhelmed families in our city. Register online.

• Sign up for Calming Your Anxious Mind, June 3: Redeemer Counseling is opening up the group for the summer. This group will help you understand how anxiety affects you and provide coping skills. As you become aware of your human limitations it will foster an increased dependence on God.