Redeemer West Side Update
In his book "Great Lent" Alexander Schmemann writes:
the liturgical traditions of the Church, all its cycles and services, exist, first of all, in order to help us recover the vision and the taste of that new life which we so easily lose and betray, so that we may repent and return to it
There's a reason God calls us to "remember" over 150 times in Scripture. We so "easily lose and betray" his vision for us and the world. This is why we need regular rhythms that draw us back into God's story (like weekly worship).
This Wednesday marks the beginning of the journey to the cross (Good Friday) and resurrection (Easter). To help you as you make your journey we have several resources, like this devotional. In addition, we have added an Ash Wednesday Service this year at W83 Ministry Center (this Wednesday at 7 p.m.) in which we are partnering with Pastor Jordan Rice and Renaissance Church. We are also offering a more structured Good Friday service at noon as well as our two evening services. Our hope is that together we will remember that repentance is God's gracious gift to us, and the doorway into his love and joy.

If you, Lord, kept a record of sins,
Lord, who could stand?
But with you there is forgiveness,
so that we can, with reverence, serve you.
– Psalm 130:3-4
In Christ,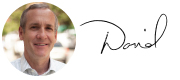 Rev. David Bisgrove
Redeemer West Side Senior Pastor
---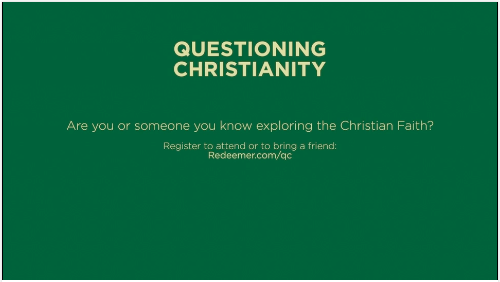 Questioning Christianity
Starts this Thursday at 7 p.m.
Questioning Chistianity – a seven-week series for non-believers – starts this Thursday. This is an opportunity for you to get into conversations with your friends. Start the conversation by asking a simple question - what are your doubts about the Christian faith? If you don't know how to answer their doubts or questions, submit them online and invite your friend to the Questioning Christianity series to explore those answers together. Register here.
We are also in need of volunteers to help in welcoming and be hospitable to our friends, family, and coworkers each week. Volunteer here.
Public Faith-8 from Redeemer Video on Vimeo.
---

• Attend Ash Wednesday service, Mar 6: Come by W83 Ministry Center at 7 p.m. for a joint worship service with Renessaince Church as we prepare for the season of Lent.

• Invite friends to Questioning Christianity, Mar 7: This Thursday is the start of Questioning Christianity. Invite your friends who have questions or doubts about the Christian faith and explore their questions together. Volunteers are also needed for this event.

• Teach music to kids at the Salvation Army with HFNY: Volunteers will commit to serving weekly on Tuesday to assist students one-on-one in their music lessons. Learn more online.

• Visit the Do For One UWS community gathering with HFNY, Mar 9: Volunteers will join community members from the Upper West Side at this fun game night to build relationships and understand how Do For One supports the residents. Register online

• Sign up for Practices for Christian Formation, Mar 10: This class puts spiritual formation into context, giving us a foundation to live as a follower of Jesus, and provides practices for everyday life. It's also part of the membership process.

• New start date for Divorce Care Group, Mar 14: The Diaconate's Divorce Care for Women has changed it's start date to the following week, March 14. Women who are separated or newly-divorced will come together in a safe environment for mutual support and a fresh start.

• Provide administrative help at Avail NYC with HFNY: Support the staff and client experience on Tuesdays or Thursdays from 4:30 to 6:30 p.m. Learn more online.

• Join us for a Walking Tour, Mar 16: Join Redeemer member and architectural historian, Glen Umberger to discover the hidden-in-plain-sight secrets of Rockefeller Center. Explore the remnants of a lost theatre, a forgotten church, and an overlooked work of art in this excursion through one of Manhattan's most iconic landmarks.

• Attend Gotham Info Night, Mar 18: Interested in learning more about the Gotham Fellowship? Join CFW for an Info Night to hear from Gotham Alumni and learn more about the Gotham experience.

• Register for Faith & Work Intensive, Mar 30: The Faith & Work Intensive is a 12-week experience that provides an in-depth look at your work through the lens of gospel identity.