Redeemer West Side Update
Today is the Monday of "Holy Week," a week Christians set apart (make holy) to reflect upon the culmination of the drama of Christ's life. Friday of Holy Week is traditionally called "Good Friday," a title that has always struck me as deeply ironic. T.S Elliot put it this way:
The dripping blood our only drink,
The bloody flesh our only food:
In spite of which we like to think
That we are sound, substantial flesh and blood —
Again, in spite of that, we call this Friday good.
The great conundrum of humanity is how to be right with God in a way that doesn't violate his holiness. In other words, how can God forgive us without violating the justice demanded by what Philip Roth called our "human stain?" The answer is found in the good news of Good Friday. Jesus' death on the cross is where justice and mercy came together. So, set apart (make holy) time this week to read through the gospel accounts of Jesus' "passion" (Matthew 26:30–27:66, Mark 14:26–15:47, Luke 22:39–23:56, and John 18:1–19:42) and join us on Good Friday to celebrate the goodness of Christ's death.

Jesus said to them, "Very truly I tell you, unless you eat the flesh of the Son of Man and drink his blood, you have no life in you." — John 6:53
In Christ,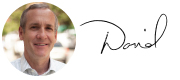 Rev. David Bisgrove
Redeemer West Side Senior Pastor
---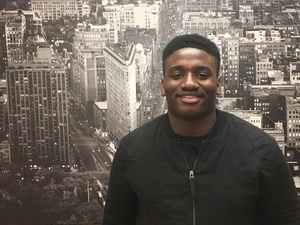 David Soime
Young Life, Queens
I've been able to explore so many things my eyes had been closed to and see the beauty that is within God's kingdom.
My name is David. I'm 18 years old and currently attend Queens College. I've lived in Jamaica, Queens my entire life. My parents are from Haiti and I am their first child born here. I have two older siblings who were born in Haiti. There is a huge age gap between us so, I don't have the closest relationship with them. Because my relationship with my parents was distant and they were more disciplinary and harsh, I really wanted to be close to my siblings. I felt like they could be the ones I could talk to, the shoulders I could cry on. But it was hard to get in contact with them and I wouldn't hear from them for years.
Growing up, my parents forced me and my little brother to go to church with them. But, there was a language barrier. I didn't understand Haitian Creole so it was difficult for me to get much out of it. My parents were pretty strict which made me veer away from believing in God.
I was much more interested in science. I've always been a good student and grades were really important to me. I was an introvert and didn't really have close friends but there was this girl at school who was basically my rival, and there was something different about her. She always looked so happy. It turns out she would go to this after-school program called Young Life. So, one day I decided to see what it was about.
I entered that space as someone who was timid and shy but there was always a warm smile at the door. Charles, who led the poetry and rap groups, challenged me to write and really encouraged me. Writing allowed me to be vulnerable and communicate my emotions which showed me that I could do more than just get good grades. That was one of the really cool things about Young Life Club at first. It was a safe space where I felt heard, understood and accepted.
When I was 16, I went to Young Life camp, which truly did end up being the best week of my life. It was my first time ever leaving Queens and it was the place where my perspective really changed and got challenged. Coming from a neighborhood like mine, people stay out of each other's way. But at camp, everyone was so welcoming, so loving. It shattered some of the walls I had built up and it was truly the atmosphere for God to have his way with me.
Every night at camp we would have cabin time and I would end up crying as soon as someone mentioned the word "relationship." Throughout the week, the speaker had been explaining to us how much God loves us, how his love is so wide and deep, to the point that he was literally willing to die for us.
At the end of the week, we had time to spend alone for praying and reflecting. I was outside by the lake, looking at the stars and I remembered something Charles had said. He had talked about how incredible it was that God handcrafted each star. I was amazed at the beauty of it all. As I was staring up, I started to feel embraced. I started to feel the love of Jesus.
Since then, I've started going to church on my own and developing my faith. Becoming familiar with who Christ is and the sacrifices he made, gave me the boldness to forgive.
Before, I was timid and insecure. I had no self-confidence, no purpose beyond being a good student and I relied on my intelligence. But Young Life helped me rely, instead, on the characteristics of God. I've experienced so many life-giving situations and heard so many words of love and truth. Now I'm more outgoing. I love writing poetry and I'm a Young Life junior leader. I even gave a mini-sermon at Young Life Club last year where I talked about how our relationship with Jesus is a gift and about how we can put all of our stuff — depression, low self-confidence, addiction — out there and he still accepts and loves us.
Young Life really feels like family. Especially my mentor, Charles, who I'm being discipled by. His consistency and level of dedication really opened my eyes to what God desires for me. And, I've been able to explore so many things my eyes had been closed to and see the beauty that is within God's kingdom. It truly is amazing.
Young Life is one of Hope for New York's non-profit affiliates serving New Yorkers in need. 100% of what you give to HFNY this Easter will go to support their 50 non-profit affiliates across the city, making stories of transformation — like David's — possible. Visit hfny.org/easter to give.
---

• Join us for WS Prayer Night, Mar 28: This month, through prayer and worship, we will explore what it looks like for God's kingdom to come to our hearts and our city. Come with your Community Group!

• Children's Ministry in great need of volunteers, Good Friday and Easter: Even if you've never served before, we could use your help in celebrating the good news of Jesus' resurrection with our nursery and preschool kids. Contact [email protected] for more info!

• Serve lunch at Union Square with HFNY, Apr 2: On Monday, April 2 from 11:15 a.m. to 1:30 p.m. serve lunch to the community with The Salvation Army. Register online.

• Pack the pantry at St. Paul's House with HFNY, Apr 2: Pack bags of food for guests experiencing homelessness on Monday, April 2 from 6 to 7 p.m. Register online.

• Mentor male students in Harlem with HFNY: Volunteer with Young Life to meet regularly after school from 5 to 7 p.m. with students of Harlem Village Academy. Learn more online.

• Older Wiser Loving Servants (OWLS) meets Fridays: Those aged 60+ gather to affirm, encourage and pray for one another, as well as serve the needs of the community as they arise. More info online.

• Attend Counselings Facing Grief and Loss Workshop, Apr 4: For individuals who are grieving a significant loss. It aims to help participants better understand how they grieve, find ways to process their grief, and connect to hope for the grief journey.

• Apply for Gotham Fellowship, Apr 30: Applications for the 2018-19 Gotham Fellowship class are due April 30. Gotham provides the theological, spiritual, and relational foundations required for meaningful and sustainable integration of faith and work.

• Register for final Formation Conference, Apr 13 and 14: We live in a city that's driven by ambition and desperate for rest. But the gospel responds with a critical question: to what end? Explore with us how we are formed to work for the glory of God.

• Congregational Meeting, May 6: Members, please save the date for a Congregational Meeting on Sunday, May 6 after the 11:30 a.m. worship service. More details will be coming soon.