Redeemer West Side Update
Recently I listened to a TED talk by Abigail Marsh. Marsh is a neuroscience professor at Georgetown who studies altruism, a vocational choice that has its roots in an act of heroic altruism. When she was 19 she swerved on a highway to avoid hitting a dog and ended up in the middle of a four lane highway facing oncoming traffic, unable to start her car. Convinced she was going to die she was startled by a man who ran across ongoing traffic, got her car started, drove it back to the other side of the highway, made sure she was safe and then drove off. She never got his name. She goes on to say:
"The actions of the man who rescued me meet the most stringent definition of altruism, which is a voluntary, costly behavior motivated by the desire to help another individual. So it's a selfless act intended to benefit only the other. What could possibly explain an action like that?"
The motivation for the action is less interesting to me than its impact. Dr. Marsh's life was changed when someone unknown to her, at risk to his own life, rescued her for no apparent reason other than concern for her welfare. What does that communicate to someone? My life has inherent value. And the world contains selfless love. That's a powerful, life altering realization that finds its most explosive expression at the foot of the cross, a reminder of our eternal value in God's eyes and the selfless love that both rescued and sustains us.
For while we were still weak, at the right time Christ died for the ungodly. For one will scarcely die for a righteous person — though perhaps for a good person one would dare even to die — but God shows his love for us in that while we were still sinners, Christ died for us. — Romans 5:6-8
In Christ,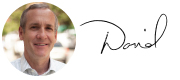 Rev. David Bisgrove
Redeemer West Side Senior Pastor
---
Mariam Somarriba
Usher and Connections Teams
I find that I not only get to give back to my fellow brothers and sisters but I'm the one who ends up learning about others and it fills me with so much love to serve others and encourage those around me to do it too.
Mariam Somarriba is from Miami, FL but grew up in Madrid and Barcelona, Spain. Her father is Spanish/Italian and her mother is Egyptian. The grandparents on her mother's side escaped Egypt because of persecution due to Radical Muslims groups during the late 50's. While she was living in Miami attending Catholic girls school she became a Christian at the age of 12. She attended college in New York at City College and graduated with a Bachelor of Arts in finance. Now she works as a financial analyst for a broker on Wall Street.
While she's lived in New York City for the twelve years, she's been a part of Redeemer for the past three. Serving is just one of the ways she has found meaningful community. "God put in my heart to serve since the first day I attended Redeemer," she says. "I find that I not only get to give back to my fellow brothers and sisters but I'm the one who ends up learning about others and it fills me with so much love to serve others and encourage those around me to do it too." Mariam enjoys serving on the usher and connections teams each month.
Over the years, Mariam has learned to speak Spanish, English, Italian, Arabic and Hebrew and is currently trying to learn Japanese. Her other hobbies include a variety of things from reading, writing and drawing to just being outdoors, playing sports and getting a rush of adrenaline every now and then. Some of her favorite spots in the Upper West Side include Flor de Mayo, Han Dynasty, The French Roast, AMC Theater and the New York Sports Club.
---
• Newly Weds join Marriage Lab this year: Did you get married this year? If so, join Marriage Lab! We kick off with an overnight retreat, then meet monthly for discussion and fellowship. Led by Dr. Brent Bounds and mentor couples. Registration required. Details online.

• Attend Training for Weekday Hospitality Roles at All Angels: Volunteers are invited to a training to learn about Pathways and identify how they want to contribute to building a welcoming environment. Roles could include greeting guests, holding a workshop, assist those learning English, leading an art or yoga class, facilitating sign-in for showers and other services, coordinating clothing donations, or overseeing the coffee and food table. RSVP online for Tuesday, June 13, or Thursday, June 15.

• Attend Training to Teach 1-Week Intensive for Immigrant Community: Volunteers will co-teach English classes for basic to advanced level to mainly Latino students (program is open to all immigrant populations) for a 1 week summer intensive course. Volunteers are also needed to co-teach a children's class to provide for the students who will need to bring their kids. RSVP online.

• Attend CFW for lunchtime discussion on June 20: Join the Center for Faith & Work Tuesday, June 20 for Soulful Fashion with Fiona Dieffenbacher. David Kim will facilitate this lunchtime discussion with Dieffenbacher, Director of BFA Fashion Design at Parsons School of Design.

• Support kids across NYC: This summer, join Hope for New York in supporting kids across NYC by helping them raise $30,000 by June 30 for their 16 affiliates serving children and youth! Learn more and give online.