Redeemer West Side Update
Yesterday's sermon was based on the incident in Exodus 32 where God's people, out of impatience and fear, constructed a Golden Calf. It was a violation of God's second commandment: "You shall not make for yourself an image in the form of anything in heaven above or on the earth beneath or in the waters below." (Exodus 20:4)
Perhaps the best way to think about how to apply this to our lives is the statement by the theologian J.I. Packer who wrote, "The second commandment means that any statement that begins, 'I like to think of God as …' should never be trusted."
In other words, the commandment is God's way of saying that for us to be truly human we can't worship him the way we want to or think of him the way we want him to be, but instead must worship and think about him as he has revealed himself to be. There are things about who God is and what he requires that we find easy to obey, and other things that seem counterintuitive and culturally "out of touch." The second commandment means God shapes our imagination about the world and how to live in it, not the other way around. All of this is rooted in the core revelation that God is love (I John 4:7-21; Ephesians 2:4-5), meaning that his law is an extension of his love for you.
Oh, how I love your law! I meditate on it all day long. – Psalm 119:97
In Christ,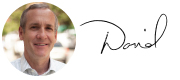 Rev. David Bisgrove
Redeemer West Side Senior Pastor
---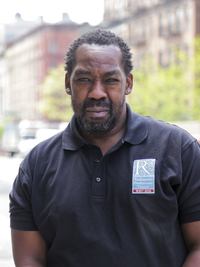 Robert Hampton
W83 Operations Team Lead
I like this job because you can just be yourself. And I like the people that I work with. It's like family.
Meet Robert Hampton
W83 Operations Team Lead
How long have you been at W83?
I've been at Redeemer for fourteen years, and at W83 for six. I started in Sunday operations.
What's a regular day at work look like for you?
Some days it's easy, some days it's hectic. I set up and break down for events that are weekly, like KCG and Open Door, and then also on Sunday. And I train new people.
What do you like best about your work?
I like this job because you can just be yourself. And I like the people that I work with. It's like family. We talk to each other, we laugh, we joke. Sometimes it's serious, but most of the time it's fun. And I appreciate that I can talk with Robert and Eva about personal things, and they give me good advice. On Sundays, before we start anything or do anything, we have a prayer. We discuss certain things from the Bible, and Robert (Alemany, W83 Operations Manager) always asks us, is there anything on our mind we want to pray about? When I was younger I always thought that you had to be perfect to become a Christian and be in the church. This job is a blessing because it brought me closer to God and the Bible.
What do you like to do when you're not at W83?
My thing is to go to the movies or out to eat. I like comedy, serious drama, and gangster movies. Then a lot of times I'll be with my daughter.
What's your favorite sports team?
I'm a die hard Knicks fan.
What's your favorite book?
The last book I read was Street God by Dimas Salaberrios, which was given to me by a very good friend of mine, Mr. Drew Melton, an Elder at Redeemer.
What do you want people to know about W83?
It's a great place to have an event, because I'm gonna always be here to make sure everything is perfect.
---

• Come work with us: Working with the West Side team is a blast. We are currently hiring for several positions - two interns, a pastoral resident, and a Sunday Kindergarten teacher. Read full job descriptions and directions online.

• All women invited to Women Leaning In, June 11: What do you "lean into" for strength as you navigate your career? Join us as Katherine Leary Alsdorf shares her story and leads the conversation on leaning into the resources of our faith and the power of the gospel.

• Serve with HFNY at the New York City Relief bus in East Harlem, June 15: Offer food, prayer, and other resources with this mobile outreach to the homeless from 10 a.m. to 2 p.m. Sign up online.

• Make Redeemer West Side a welcoming place: One of our Sunday service volunteer options is welcoming everyone who comes through our doors. The Connections Team engages people in conversations and guides them to ways of getting connected to community. Learn more online.

• Provide support at Avail NYC: Come alongside people facing unexpected pregnancies through support and encouragement on Tuesdays and Thursdays from 5 to 7 p.m. or 6 to 8 p.m. Learn more online.

• Join the next Social Discussions gathering, June 20: We are continuing a series of discussions and events focused around our singles community. Whether you're single, married, divorced or engaged, everyone is welcome as we discover how we all make up the Body of Christ.

• Hang out at the next West Side Social, June 20: Come hangout with staff and other West Siders at the next West Side Social. We'll be meeting at E's Bar which is just up the street from W83. Let us know you're coming!

• Join HFNY at Do For One info session, June 24: Do For One brings people who are marginalized due to disability into a place of belonging through community. Learn more online.

• Start a online recurring gift today: With summer travel plans and vacations taking us out of the city, giving tends to go down. If you consider West Side your home, think about how you can intentionally and prayerfully give through setting up a recurring gift this summer.

• Volunteer with VBS this summer: Vacation Bible School is a month away! Helping hands are needed to serve our littlest disciples and their friends during the week of July 8 - 12. Find a spot to serve online.