Redeemer West Side Update
One of our summer activities involved spending a few days at the Jersey Shore over the 4th of July. Despite the frigid temperature, my 9-year-old frolicked in the ocean for hours on end. And for hours on end I (or my wife) watched her from a beach chair a few yards away with a combination of both care and delight. I was watching her because I wanted to be ready to run into the water in case she got swamped by a wave. But I also delighted in her delight. And every once in awhile she would look back over her shoulder just to see if we were watching, and then jumped back in with the abandon of one who knows that just a few yards away is someone who loves her and has the strength to rescue her.
That image reminded me of Psalm 23, which I preached on yesterday. When we pray the words, "the Lord is my shepherd," we affirm that there is one who rejoices over and cares for us; whose presence in our life as Lord gives us the freedom to live with a kind of abandon and joy. It is a joy that comes from knowing God loves me and has his eye on me during those moments when the waves of life begin to overwhelm me. In other words, it is his care and delight for me that allows me to joyfully pray the words, "I lack nothing."
"The Lord is my Shepherd, I lack nothing." — Psalm 23:1
In Christ,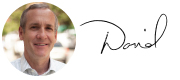 Rev. David Bisgrove
Redeemer West Side Senior Pastor
---
---
• Join Marriage Lab: If you are in your first year of marriage, join Marriage Lab! We kick off the year with a retreat to the Poconos and meet monthly from October through May. More details and registration online!

• Help train new leaders with Preaching Lab this Thursday: Part of the Rise Campaign is the training of new leaders. We welcome you to help raise up the next generation of gospel preachers! Join us for a mid-week opportunity to listen to mini-sermons, ask questions and provide feedback. Registration required.

• West Side is hiring: We are looking for some hard working people to join the West Side team in part- and full-time positions. From Youth Intern to Community Group Resident check out some of the things we're looking for!

• Job Search Lunch & Learn starts in August: Bring your lunch and join the Diaconate's new summer speaker series! Each Thursday during August an industry expert will teach on a job search theme relevant for all professionals. Weekly topics and registration can be found online.

• Lead or host a Beta Group this fall: Help connect newcomers to God and the community of Redeemer West Side by leading and/or hosting a Beta Group this fall!

• Attend the Info Session for The Charity Bike Ride: Love to bike? Love NYC? Join #TeamHFNY to ride and fundraise for the poor of NYC. The Charity Bike Ride is on Sept. 16, and the Info Session is on Aug. 3. Learn more and RSVP for the Info Session online.

• HFNY affiliate network has grown: HFNY's affiliate family has officially grown to 50 partners! We recently added five new non-profit affiliates to our network—for a total of 50—and we couldn't be more excited. Learn more about them on our website!

• Attend training to serve through Prison Fellowship: Join Prison Fellowship for an orientation, training and prayer event to serve the men and women of Rikers Island Correctional Facility. Prospective and current volunteers are welcome to attend to learn more about this ministry.