Redeemer West Side Update
Below is a previously published West Side Update chosen by David to be sent out during his sabbatical. Enjoy!
July 23rd - originally published July 24, 2017
One of our summer activities involved spending a few days at the Jersey Shore over the 4th of July. Despite the frigid temperature, my 9-year-old frolicked in the ocean for hours on end. And for hours on end I (or my wife) watched her from a beach chair a few yards away with a combination of both care and delight. I was watching her because I wanted to be ready to run into the water in case she got swamped by a wave. But I also delighted in her delight. And every once in awhile she would look back over her shoulder just to see if we were watching, and then jumped back in with the abandon of one who knows that just a few yards away is someone who loves her and has the strength to rescue her.
That image reminded me of Psalm 23, which I preached on yesterday. When we pray the words, "the Lord is my shepherd," we affirm that there is one who rejoices over and cares for us; whose presence in our life as Lord gives us the freedom to live with a kind of abandon and joy. It is a joy that comes from knowing God loves me and has his eye on me during those moments when the waves of life begin to overwhelm me. In other words, it is his care and delight for me that allows me to joyfully pray the words, "I lack nothing."
"The Lord is my Shepherd, I lack nothing." — Psalm 23:1
In Christ,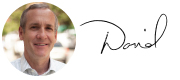 Rev. David Bisgrove
Redeemer West Side Senior Pastor
---
---

• Pray for Youth Group: This week our Youth Group is in Puerto Rico working with their partner, Praying Pelicans. Please pray for these students throughout the week as they are working, being challenged, learning and growing!

• Sign up for the new Family Devotional: The new Family Devotional is a resource to help you and your kids (ages 4-7) practice regular quiet times. Read scripture, reflect, pray and even do a fun activity together!

• Join a summer community group: This group is ideal for summer interns but all are welcome. We will meet for Bible study and mutual support in navigating work, faith and living in the city! Advance registration online is required.

• Bike and fundraise for New Yorkers in need: Sign up as a team or individual to ride and fundraise for our neighbors in need in HFNY's annual Charity Bike Ride on September 22.

• Serve families in need with HFNY, July 21: Help distribute household items at a Block Party in Chelsea with Dream Center on Saturday, July 21 from 12:15 to 3 p.m. Register online.

• Serve lunch to the community in East Harlem with HFNY, July 29: Volunteers serve a community meal with The Salvation Army in East Harlem by seting up the tables and chairs, serving the meal, and cleaning up. Register online.