Redeemer West Side Update
Summer often reminds me of vacations spent with my grandparents in upstate New York. Despite the beautiful surroundings and loving relatives, I was often homesick. For those who can empathize, you know the ache for something you have, know, and love. Those strong feelings reveal deep longings within us for a place that suits us and where we can be, or perhaps find, our true selves. This is captured by Eva Hoffman in her book Wanderers by Choice:
Since Adam and Eve left the Garden of Eden; is there anyone who does not, in some way feel like an exile? We feel ejected from our first homes and landscapes, from our first romance, from our authentic self.
The Psalmist captures this deep homesickness as our longing for God's home, "By the rivers of Babylon we sat and wept when we remembered Zion." (Psalm 137:1) Sitting with those feelings, all these years later, allows me to look more fully to the one who has come to make his home with us and to thank God that he will not leave us weeping by the river.
Jesus replied, "Anyone who loves me will obey my teaching. My Father will love them, and we will come to them and make our home with them. – John 14:23
In Christ,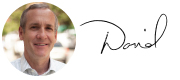 Rev. David Bisgrove
Redeemer West Side Senior Pastor
---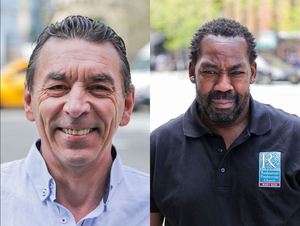 Getting the job done right
Robert Alemany, W83 Operations Manager
Do you ever wonder how things get done at W83? Today you get to meet the men behind our hardworking Ops Team.
Do you ever wonder how things get done at W83? Today you get to meet the men behind our hardworking Ops Team. Our very own Operations Manager, Robert Alemany, will be giving us a sneak peek into the inner workings of the operations team and introduce you to all the team members. But first, let's give him a quick introduction.
Robert has been with us for five years: his work anniversary was actually this month, July 13. He's been married to his wife, Juliana, for 17 years, and says she's "way smarter than I am and better at just about everything." The two of them have a son who loves math, sports, and pizza. Robert's also a big reader, currently devouring the works of Alexandre Dumas – and enjoys country music, CrossFit, rock climbing, and running.
W83 Ops: Getting the Job Done Right
by Robert Alemany, W83 Operations Manager
Operations work is more than just setting up rooms for events. In fact, it's actually a very moving story. Our ops team displays deep-seated care for every one of our events. It mic be setting up sound or making a bean-normous amount of coffee for guests. Whatever the task, our team really does chair-ish every opportunity to make each event a memorable one.
The W83 Operations Team
José Gonzalez is one of our ops leads and helps with building repairs. Not to hammer the point home, but if you need something done, then he's the one to nail it!
Robert Hampton is our other ops lead and helps train our new team members. He is also gifted at hanging paper lanterns. It's a truly de-light-ful talent.
Felix Rodriguez is an ops team member and a Licensed Electrician. I know, it's shocking, right?
Ron Perlmutter works for one of New York's State Parks during the week, but wanted to branch out, so he joined our ops team many years ago.
Rafael Campusano is known as our kitchen guru on Sundays. He makes our coffee and has done a brew-tiful job for a latte years.
Joey Sepulveda is an all-star member of our team, and loves sports. He's really a jock of all trades.
Beedz Pierre is a big fan of car racing, which makes sense because his work setting up for events is highly wreck-amended.
When he's not at W83, Luis Espinosa is also a student. He's studying computer science and would probably love to tech the time to teach you some things, but I think he's busy listening to A-Dell.
Josue Batista-Campusano is another college student who has above-average math skills, so if you need help he can give you sum.
Isaac Coston is a college student who happens to be an excellent guitar player. Ukele-tly he's been studying for finals.
Isaac Martinez loves weightlifting and his goal is to join the Fire Department. I don't know what the future holds, but I'm sure it will all workout.
Chris Bell is our newest ops team member. He is truly some-ding special and comes with ringing endorsements. We are glad to have him.
Thanks Robert, for introducing the team! And please feel free to say hi when you see them around the building!
---

• Submit your resume: We are still searching for a Pastoral Resident. This is a full-time position and is great for someone who is passionate about pastoral care, mercy and justice, and building community.

• Invite friends to W83 exhibit opening, July 23: Tomorrow night is the opening of a new exhibit at the Gallery at W83. "Don't Forget Me: Ghost Bikes Photographs" by Genea Barnes documents memorials at the site of fatal bike accidents from around the country.

• Connect with other newcomers at the Summer CG, July 24: We are holding the second meeting at the Redeemer Offices in Midtown. This short-term group is ideal for summer interns but all are welcome to attend. Advance registration is required for building entry.

• Join West Side Social Discussion, July 25: Whether single, married, divorced or engaged, everyone is welcome as we discover how we all, in community, make up the Body of Christ. This week we'll be talking about true friendship and what it looks like to develop those relationships.

• Hang out at the next West Side Social, July 25: Join us at e's Bar (just north of W83) from 7:30 to 10 p.m. Invite friends to come along and meet other people over a cash bar and complimentary appetizers.

• Attend Back on My Feet orientation with HFNY, July 25: Learn more about how running can encourage deeper change in men and women experiencing homelessness. Register online.

• Join West Side Women this summer: Come for Bible discussion, prayer support, and meet new friends at West Side Women's weekly meetings on Tuesday evenings and Friday mornings at W83.

• View summer reading suggestions: Still looking for a book to read this summer? Check out the summer reading suggestions put together by our pastoral staff.

• Mark your calendar for Trivia Night, Aug 11: Get ready for some friendly competition. Start a team with your friends or make friends by being placed on a team. $3 goes toward snacks and prizes. Learn more and sign up online.