Redeemer West Side Update
I recently listened to an interview with Terry Ehrman, an ordained Catholic Priest who has degrees in biology and theology, and teaches about the relationship between science and creation at Notre Dame. In the interview he mentioned that he assigns two "labs" to his students. The first lab requires the students to map the phases of the moon over 28 days, and the second lab is to spend a month journaling, both scientifically and theologically about the changes observed in a tree. When asked about these labs he said the first was to get his students to look up, a way of remembering that there is more to the world than what we see in front of us. Looking up gives the students an opportunity to remember and experience the wonder and beauty of God's creation. The second is to get his students to be still, a discipline that is increasingly difficult in our plugged in world, but one that allows a person to think and reflect on God, his world and our place in it. Those are two important reminders as we begin another week. In the business of our lives, take time to look up and be still, and know who God is and that he is with us.


He says, "Be still, and know that I am God;
I will be exalted among the nations,
I will be exalted in the earth."
The Lord Almighty is with us;
the God of Jacob is our fortress.
— Psalm 46:10-11
In Christ,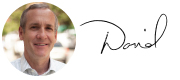 Rev. David Bisgrove
Redeemer West Side Senior Pastor
---
---

• Get tickets for A Conversation with Christian Wiman, Feb 4: This conversation is coinciding with the release of his new collection of poems, Survival Is a Style, which bears out his singular vision of faith and doubt, mortality and the divine.

• Attend CFW's 12-week Vocational Intensive Info Session, Feb 6: It can be hard to connect our identity as children of God with the feeling of futility we sometimes experience in work. See if this 12-week experience might be one way God wants to meet this need.

• Teach math to adult students at The Open Door: Co-teach weekly prep classes for TASC/GED level math to students from immigrant community, mainly Spanish speaking, who are preparing for the exams. Spanish language proficiency required.

• Build community with other dads, Feb 8: Share stories and encourage one another as we seek to explore what it means to support and lead our families to be formed in Christ's image.

• Sign up for How to Read the Bible, Feb 9: Whether you are new to the Bible or have been reading it for years, we all have more to learn. Join Rev. Bijan Mirtolooi to sharpen our interpretive skills and learn practical steps for reading, understanding and applying the Bible.

• Attend Intro to Redeemer West Side, Feb 9: Learn about the history and vision of Redeemer, get acquainted with its ministries and opportunities, and dialogue with West Side staff and other congregants on questions you may have about the church or Christian community.

• Join the next Social Discussion, Feb 9: Whether you're single, married, divorced or engaged, everyone is welcome as we rethink weakness and deficiency from a biblical perspective, that we might better see ourselves and others as God does.

• Love our neighbors living on the street, Feb 11: Registration for Don't Walk By has been extended to Feb 11! Sign up to serve for Feb 15 on site at W83 or out in the neighborhood inviting neighbors back to the building for food and care. There are still about 200 spots left to fill!

• Register for the next class on Ruth, Feb 12: The second class of our Ruth series is about friendship. Friendship is increasingly devalued in our society today. Ruth has a lot to say about others-centered, committed friendship and it's as relevant today as it's ever been.

• Serve lunch to homeless guests, Feb 13: Volunteers will serve coffee and tea, prep and serve a hot lunch, and play games (ping pong, chess, checkers, dominoes etc) with the guests.