Redeemer West Side Update
I recently attended a talk with the author Lisa Damour, in which she spoke on the growth of stress and anxiety among teenage girls. It was a reminder of the enormous challenges and dangers confronting young people today that can cause alarm and discouragement in parents and educators. And yet the opening words of her new book are "I have good news." In the middle of a difficult situation comes a word of hope.
This is the core message of Christianity. In a world with enormous challenges and dangers comes the good news (gospel). God has sent Jesus to renew the world with the power of God's Kingdom. And when we believe and rely on Jesus' work and record, that kingdom power begins to work through us. This is the gift of love that is at the heart of what Christians are to share with friends, family, neighbors and colleagues. To that end, please consider inviting someone to our upcoming Questioning Christianity talks with Tim Keller at W83 Ministry Center, or to any other of the many events, classes and gatherings hosted every month at our church.
How beautiful on the mountains
are the feet of those who bring good news,
who proclaim peace,
who bring good tidings,
who proclaim salvation,
who say to Zion,
"Your God reigns!"
– Isaiah 52:7
In Christ,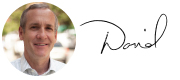 Rev. David Bisgrove
Redeemer West Side Senior Pastor
---
---

• Attend Marriage Renewal, Feb 20: Intimacy doesn't just happen. It takes time, intionality and care. Couples married 2+ years are welcome to join us as Dr. Brent Bounds talks about the importance of Building Intimacy. $10 covers dinner costs.

• Share dinner and engage in conversations with HFNY: Dinner parties through Dream Center NYC is an outreach to the community in Harlem on Friday, February 20 from 6 to 8 p.m. Register online.

• Build an unstoppable trivia team, Feb 24: Kick off the Oscars with a special edition of Trivia Night. Don't worry, we'll be done in time for you to make it home or to you party to enjoy the evening events.

• Register for new parenting class, Mar 2: Principles for Gospel Parenting explores how can we embrace parenting with vision, purpose, and joy. This four-week class starts Saturday, March 2.

• Enjoy dinner with us, Mar 3: If you are new to Redeemer and have yet to have a meal with us, join us on Sunday, March 3 after the 5 p.m. worship service to meet staff and others new to the community.

• Participate in Diaconate's Divorce Care Group, Mar 3: This group is open to women in any stage of divorce as a safe place to share and process pain from a broken marriage. Learn more online.

• Join the HFNY Charity Run, Apr 13: Are you a runner who loves NYC? Run and fundraise for the HFNY Charity Run in Queens on April 13 to support the work of 50+ affiliates serving New Yorkers in need. Sign up

• Apply for Gotham Fellowship, Apr 13: Applications for the Gotham Fellowship are open for the 2019-2020 class. Gotham is designed to deepen your understanding of God's purposes by connecting theological formation, spiritual practices, and cultural renewal to your work.