Redeemer West Side Update
A good deal of of the Christian life is an attempt to reconcile God's love and our suffering; his goodness and our trials. God has no such problem. For example, in Psalm 81 he puts it this way:
I removed the burden from their shoulders; … In your distress you called and I rescued you, I answered you out of a thundercloud; I tested you at the waters of Meribah.
God's love motivates both our rescue and our testing. His grace is at work in our comfort and our distress. Why is this? Because the purpose of God's grace is to restore our relationship with him and to deepen our trust in him. How does he do this? Not by shielding us from trouble, but by exposing us to our inadequacy. JI Packer puts it this way:
The reason why the Bible spends so much of its time reiterating that God is a strong rock, is that God spends so much of his time bringing home to us that we are weak … and dare not trust ourselves to find or to follow, the right road.
And as we see how God redeemed the likes of Moses, David, Joseph and Paul, and the suffering of God himself on the cross, we are reminded that our suffering and trials are not the end of the story, but a means through which God will restore to us the "years the locusts have eaten". (Joel 2:25)
But he said to me, "My grace is sufficient for you, for my power is made perfect in weakness." Therefore I will boast all the more gladly about my weaknesses, so that Christ's power may rest on me. — 2 Corinthians 12:9
In Christ,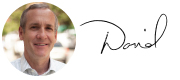 Rev. David Bisgrove
Redeemer West Side Senior Pastor
---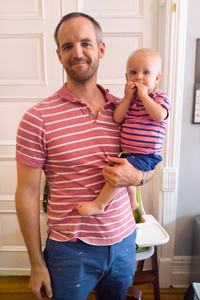 Michael Markham
West Side Volunteer
The hymn My Goal is God Himself has been a way of grounding myself and reminding myself that all those worries and ambitions and successes should not be central in any way
Michael Markham grew up in Vermont, Kentucky and Alabama as the son of a Southern Baptist Pastor. He came to New York City in August of 2002 in pursuit of a career in acting. He is the husband of Karen Markham and a stay-at-home father of two wonderful children. He still feels called to pursue his work in acting and filmmaking. "It's not a forgiving industry and every time I feel like giving it up, I feel God calling me back to it," he says. During times of stress, worry or excitement of worldly things, a go-to hymn is "My Goal is God Himself." This hymn, for Michael, has been a way of "grounding myself and reminding myself that all those worries and ambitions and successes should not be central in any way."
Michael has been attending Redeemer since 2006. Throughout his time here he has been involved in a variety of ways including volunteering at VBS, leading a Community Group, leading a vocational group for actors with CFW, serving on the Communion Team and reading scripture at the 9:30 a.m. service. He also does occasional work for Redeemer as an independent contractor doing video work.
In addition to Red Sox Baseball and telling stories, one of Michael's passions is a project called Spark and Echo. This project commissions works of all kinds of art — theater, film, dance, sculpture, writing, etc. — in response to every verse in the Bible. "I'm involved because I think the Bible is relevant to our modern culture and its artists who tell the stories that our culture is shaped from," he says. Michael goes on to say that the church used to be the biggest producer of art in the world. Spark and Echo seeks to be in conversations with artists because they make the ephemeral, tangible. "They make the surreal, relatable and understandable to our hearts and souls, whether we get it intellectually or not," he explains. "We need more of that in the church." After starting the project in 2010, Spark and Echo have commissioned works of art relating to about 14% of the Bible.
---

• Last opportunity to attend the Public Faith Conference: Registration for the Public Faith Conference closes tonight at midnight. If you would like to attend sign up now!

• Immediate need in Children's Ministry: We are looking to hire a teach for our special needs children. If you have experience, education or are willing to be trained, please contact [email protected]

• Volunteer with our Connections Team: If you are a person who loves people and wish to see them getting connected to the church, sign up to serve our Connections Team.

• Join a Community Group: New to the city? New to church? Join a Community Group! These groups are a great way to cultivate a relationship with God and friendships with others.

• Sign up for Job Search Skills Training, Feb 15: Actively seeking a job? The Diaconate's next Job Search Skills Training course will begin February 15. Dates, topics and registration can be found online.

• Register for an evening with Marilynn Robinson, Feb 21: Pulitzer-prize winning author Marilynne Robinson will be speaking on February 21 at the W83 Ministry Center in an event hosted by CFW and Redeemer.

• Attend Safe Families for Children info session with HFNY, Feb 26: Learn how you can come alongside overwhelmed families with limited resources on Monday, February 26 from 6:30 to 8 p.m. RSVP online.

• Join HFNY for a workshop on homelessness, Mar 1: Learn more about the experiences of our homeless neighbors at Making Poverty Personal: A Workshop on Homelessness is on March 1. Space is limited. RSVP online

• Sign up for HFNY annual Charity Run, Mar 17: Love to run? Join the HFNY Runners! Fundraise and run for the poor of our city in a 5K or 10K on March 17. Sign up for the West Side team led by our very own CG Director, Ellen Singleton.