Redeemer West Side Update
Because New York City is a walking culture we have instant access to each others emotional temperatures. For example, two weeks ago in the middle of the polar vortex we scurried from the subway to our homes and jobs, grumbling under our frozen breath with frowns and scowls. Last week when the temperature hit a balmy 60 degrees coats were shed, smiles emerged and you could feel the positive energy on the sidewalks. It was a reminder that humans might be endothermic in our bodies, but are often ectothermic in our emotions (our circumstances determine the temperature of our mood).
My relationship with God can be the same. Circumstances can rob me of joy, trust, hope and contentment. And yet God calls us to be content in all circumstances (Philippians 4:10). How can we learn to regulate our contentment? One approach is found in Colossians 3 where Paul lays out this strategy: "set your minds on things above … Your life is hidden with Christ in God. And when Christ, who is your life, appears, then you also will appear with him in glory."
This is the dial that helps us reset our inner spiritual temperature. We are to look at our fear, worry, or anger and remember that Christ is our life and the one that defines us. It is coming into Christ's presence in prayer and relying on the Holy Spirit to make Jesus spiritually real to our hearts. That cultivates the peace of Christ in the heart and is a way of responding to his invitation, "Come unto me and you will find rest for your souls." (Matt 11:28-30)

I know what it is to be in need, and I know what it is to have plenty. I have learned the secret of being content in any and every situation, whether well fed or hungry, whether living in plenty or in want. I can do all this through him who gives me strength. – Philippians 4:12-13
In Christ,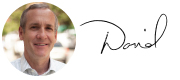 Rev. David Bisgrove
Redeemer West Side Senior Pastor
---
---

• Join us for a lovely social, Feb 14: Share the love at our next West Side Social, February 14 from 7 - 10 p.m. at The Gin Mill. Let us know you're coming!

• Attend Short-term Missions Info Session, Feb 17: Learn more details about the West Side 2019 short-term missions trips at an Info Session after the 11:30 a.m. worship service this Sunday.

• Mentor youth in Washington Heights at Operation Exodus with HFNY: Volunteers are asked to commit to mentoring approximately twice a month to cultivate a mentoring relationship with children on Saturdays from 9:30 a.m. to 12 p.m. Learn more online.

• Lead worship service at Isaiah 58 with HFNY: Isaiah 58 is a volunteer-led ministry of mercy outreach to people living with HIV/AIDS. Volunteers are needed to help sing, play in the band, lead Bible study, organize services, and connect with residents. Learn more online

• Be a career center Champion at The Bowery Mission with HFNY: Champions walk alongside the students who are completing the Jobs for Life course, encouraging them along the way and helping them with the curriculum.

• Give your first fruits back to God: Sign up to participate in online recurring giving. This is a great practice to continually support the renewal of the city and keep ministries running.

• Invite a non-believing friend to Questioning Christianity: Having conversations with our friends can be uncomfortable. Questioning Christianity is an opportunity open up conversations and allow your friends to ask questions.

• Apply for the Gotham Fellowship: The Gotham Fellowship is a nine-month cohort-based learning community designed to deepen your understanding of God's purposes, by connecting theological formation, spiritual practices, and cultural renewal to your work.