Redeemer West Side Update
Tomorrow is Christmas Eve, a time of wonder that stretches the imagination. So in honor of that day, I have shared a poem from a writer whose gift of imagination has helped so many of us wrestle with life on this planet. Read. Think. Enjoy. And Merry Christmas!
The Risk of Birth
This is no time for a child to be born,
With the earth betrayed by war and hate
And a comet slashing the sky to warn
That time runs out and the sun burns late.
That was no time for a child to be born,
In a land in the crushing grip of Rome;
Honor and truth were trampled by scorn-
Yet here did the Savior make his home.
When is the time for love to be born?
The inn is full on the planet earth,
And by a comet the sky is torn-
Yet Love still takes the risk of birth.
~ Madeleine L'Engle



For to us a child is born, to us a son is given, and the government will be on his shoulders. And he will be called Wonderful Counselor, Mighty God, Everlasting Father, Prince of Peace.
— Isaiah 9:6
In Christ,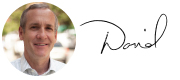 Rev. David Bisgrove
Redeemer West Side Senior Pastor
---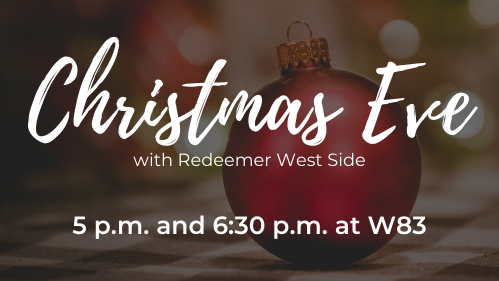 ---

• Join us for a party, Dec 29: Ring in the New Year a little early with Redeemer West Side after the 5 p.m. worship service on Dec 29.

• Restore confidence through running with Back on My Feet, Jan 8: Attend an orientation session to help individuals in a homeless recovery program.

• Register for 7-week Faith & Work Class, Jan 8: This class is designed to give you a biblical overview of faith and work. Over the course, we hope to demystify the idea of calling and deepen your understanding and experience of everyday work.

• Coach basketball for teens with Young Life UWS: Young Life UWS needs mentors to build relationships with athletes and introduce spiritually disinterested kids to Jesus.

• Build community with other dads, Jan 11: Whether your a dad of older kids, kids at home, or kids-to-come, your experience matters. Share stories and get encouragement from other West Side dads as we seek to grow our families in the image of Christ. Child care available.

• Help adults with disabilities at The Rita Berger House, Jan 11: Build relationships with adults living with mental disabilities. Bake, craft, go on outings, and more.

• Sign up for Practices for Christian Formation, Jan 12: This class puts spiritual formation into context, giving us a foundation to live as a follower of Jesus, and provides practices for everyday life. It's also part of the membership process.

• Join the next Social Discussion, Jan 12: Our topic for the evening will be "Cultural Identity Journey," exploring how in order for us to connect authentically with others, we need to know ourselves and be able to understand others' cultural identity.

• Register for CFW's Faith & Finance Course, Jan 22. This six-week course equips financial services professionals with a theological, scriptural, and prayer toolbox to live out their calling.

• Take 5 minutes to fill out CFW's survey: CFW wants to hear from you! Fill out our brief survey to let us know what programming and partnerships would help you better live out your calling within your work.