Redeemer West Side Update
Shepherds are one of the iconic and familiar images associated with the birth of Jesus (Luke 2:8). What is often lost is that shepherds were considered second class citizens deprived of civil rights and labeled "sinners," a technical term for a class of despised people. They were the ignored and invisible of their world. And yet, they were the ones to who were given the angelic news of Jesus' birth. (Luke 2:10-12)
This reminds us of the character of the God of the bible and the kingdom Jesus came to establish. As one writer put it:
As we gaze on nativity scenes and smile at those gunny sack shepherds, let's not lose sight of the striking irony…(that those who were ) marginalized by the religious elite, were chosen to break the silence of centuries, heralding Messiah's birth.
What does this mean for us? We encounter people every day who are the ignored and invisible of our city, often scurrying past without seeing them. So, as we prepare for the arrival of Jesus during Advent it is important to remember that we are the recipients of the same unmerited grace offered the shepherds. And that to follow Jesus means seeing and caring for those in our midst who are despised and rejected, overseen and ignored. This is the pattern found in the fields of Bethlehem that is to be lived in the streets of New York City.

When they had seen him, they spread the word concerning what had been told them about this child, and all who heard it were amazed at what the shepherds said to them. — Luke 2:17-18
In Christ,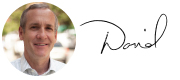 Rev. David Bisgrove
Redeemer West Side Senior Pastor
---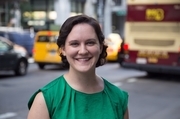 AmberRose Dische
Youth Ministry Intern
I help lead and coordinate games and worship for the Friday night Youth Group meetings
AmberRose Dische joined the West Side staff as the Youth Ministry Intern in September 2017. "I help lead and coordinate games and worship for the Friday night Youth Group meetings." She also plans special events such as movie nights and concert outings.
AmberRose earned her Master of Music Vocal Performance from Mannes, the New School for Music, in NYC. She can be found working at W83 Ministry Center on Sundays either singing or working with the ushers.
She enjoys spending her free time lounging in a rocking chair with a coffee and a book. Offer her some chocolate and she likely won't refuse. AmberRose also loves spending time in a theater, concert hall, church or getting lost in a library or museum. Her favorite boutique on the UWS? Magpie. "It's hard for me to go in there without coming back out with something or several somethings!"
---

• Make a gift to reach 2017 financial goals: Our matching gift opportunity is extended to December 14. We have a matching grant of $120,000. This means any gift given online by December 14 will be doubled. Also, any first time, online gift of $100 or more will be matched by an additional $1,000. So, please consider making an online year-end gift so we can begin 2018 on firm financial footing.

• Invite a friend to Lesson's and Carols: Lessons and Carols will be on two Sundays this year. In the morning at 9:30 and 11:30 a.m. on December 17 and in the evening at 5 and 6:30 p.m. on December 24.

• Sing Christmas Carols in the neighborhood, Dec 17: Meet at Theodore Roosevelt Park, Sunday, December 17 at 3:30 p.m. for Christmas caroling in our West Side neighborhood. The more the merrier!

• Celebrate the season after 5 p.m. service, Dec 17: Come up to the 5th floor after the 5 p.m. service on Sunday, December 17 to enjoy some hot cocoa and Christmas cookies in celebration of the Christmas season. We may even sing some carols together!

• Host a Christmas Party at St. Paul's House with HFNY: Volunteers will help set up the party, serve and prepare care packages for guests on Tuesday, December 19 from 5:30 to 9:30 p.m.

• Celebrate Christmas at Neighborhood Coalition for Shelter: Serve a Christmas meal with HFNY to men and women living in residence on December 25 from 3 to 4 p.m.

• Serve expectant moms at Expect Hope: Female volunteers and mentor families are needed to meet weekly with new and expectant moms through HFNY in the Bronx starting in January.

• Regiser for Job Search Skills Training in Jan: Actively seeking a job? The Diaconate's next 5-session Job Search Skills Training course will begin January 11. Dates, topics and registration can be found online.

• Join the CFW's Faith & Work Class: This 6-week introductory level class is held on Tuesday nights beginning January 23. This cross-vocational course will focus on 6 different Bible passages from which we will gain insight concerning God's intention for our work.