Redeemer West Side Update
Below is a previously published West Side Update chosen by David to be sent out during his sabbatical. Enjoy!
Originally published November 10, 2014
One of the more fascinating scenes at the end of Jesus' life is in the Garden of Gethsemane when he finds his friends sleeping and admonishes them this way, "Watch and pray so that you will not fall into temptation!" (Matthew 26:41) On the surface it raises the question, just how much trouble could they get into sleeping in a deserted garden? How much temptation could there be? But Jesus understood that a storm was brewing. A trial. A test. Something that would shake the faith of his disciples to its very core. In other words, he was admonishing them to put into practice what he had previously taught them about prayer, "Lead us not into temptation, but deliver us from evil." William Willimon puts it this way when describing this aspect of the Lord's Prayer:
Words like "save" and "trial" and "deliver" are words of crisis. They remind us that to pray this prayer means to be thrust into the middle of a cosmic struggle. At this point the temperature rises within the Lord's Prayer. Things are not right in the world. It is as if something, someone has organized things against God. You pray this prayer faithfully, attempting to align your life to it and the next thing you know, it's like you are under assault.
Jesus was hours away from willingly bowing his head under the storm of God's wrath and justice on the cross. And yet here he was, in his darkest hour, reminding his disciples, and us, why he was about to die – love. Prayer is one of the many gifts Jesus has given to remind us how much we are loved (Luke 22:31-32). Let us not just remember them, but put them into practice.
Put on the full armor of God, so that you can take your stand against the devil's schemes. For our struggle is not against flesh and blood, but against the rulers, against the authorities, against the powers of this dark world and against the spiritual forces of evil in the heavenly realms. – Ephesians 6:11-12
In Christ,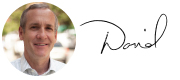 Rev. David Bisgrove
Redeemer West Side Senior Pastor
---
---

• Attend a volunteer training for The Open Door with HFNY, Sep 5: Sit it on training to teach ESL/TASC or children's classes to our immigrant neighbors from 6:30 to 8:30 p.m.

• Join the next Agora conversation, Sep 12: An Evening with Rachel Denhollander will take place at W83 Ministry Center starting at 7 p.m.

• Pray with us at our first Prayer Night, Sep 13: How would you like God to transform you and your communities this year? Join us in prayer for spiritual renewal in our hearts, our church and our city.

• Teach arts classes to kids with HFNY, Sep 19: The Salvation Army is in need of volunteers to teach dance, drama, music or art classes to children in the evenings (times are flexible).

• Sign up for Sexual Integrity for Men, Sep 20: If you are a man seeking recovery from pornography and sexual addiction, this 12-week group addresses what it looks like to grow in sexual integrity and have freedom in Christ.

• Join Team HFNY to cycle and fundraise, Sep 22: Members from across the city will come together to cycle and fundraise for New Yorkers in need in HFNY's Annual Charity Bike Ride on September 22. Join us!

• Register for the Formed for Justice Conference, Nov 16-17: Join us in exploring how to advance mercy and justice across economic, cultural and racial divides. Register now for the early bird price!