Redeemer West Side Update
When the stars feel like they are falling out of the sky (the literal meaning of "dis-aster") everyone runs to their axis mundi, some "sacred pole" that "keeps earth connected to heaven." This is the insight of theologian Mircea Eliade who wrote that we run to our sacred poles to insure us that the heavens aren't collapsing on top of us. Writing this reflection in the immediate aftermath of the evil, murderous "disasters" in Dayton and El Paso it is hard not to feel that the stars are falling. A few days after the massacres, I read a verse in Psalm 79 that gave voice to the raging storm of emotions swirling inside.
May your mercy come quickly to meet us, for we are in desperate need.
There are many ways we can and should combat evil in our world, including gun violence, but in the end what we desperately need is God's mercy. This is why the axis mundi of Christianity is the cross. I cling to it and remember that the stars collapsed on God's son so that our desperate need for mercy will one day be fully realized. In the meantime, I pray for those directly impacted by this evil and join with God's people down through the ages and cry out, "How long O Lord?" (Psalm 13:1)
May your mercy come quickly to meet us, for we are in desperate need. – Psalm 79:8

In Christ,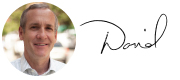 Rev. David Bisgrove
Redeemer West Side Senior Pastor
---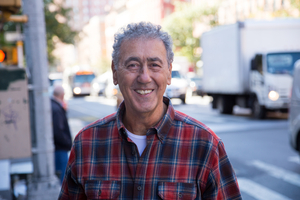 Peter Perri
W83 Front Desk
I love the people I work with. We have a wonderful team here. And I like dealing with the people that come in and out of here.
Meet Peter Perri - W83 Front Desk
How long have you been at W83?
Since 2013. I'd been retired for the last 8 years, and in that early retirement period, I wanted to do a little volunteering, so Cate Capozzi, who I've known for many years was doing Free Indeed, (a food pantry for vulnerable seniors on the UWS) and I drove the truck. I made the pickups at different locations. At the time, a gentleman who was running the building knew my background, hotels and security. He said maybe you can help with events. One thing led to another and once Eva (Director of W83 Ministry Center) came, Eva and I used to do events together. Eventually, there was a position to work day shift at the front desk, and I jumped at that. That's where I am.
What's a regular day at work look like for you?
I can honestly say it starts with prayer, and my prayer each day as I prepare to come to work is that I would be an example of Jesus Christ, that I would be a real example of God's love because of my contact with people. So that's very important for me. The job is overseeing the activity that is going on, knowing what's going on in the building, being able to comnunicate that to people coming in looking for events, and people walking in who have questions about religion or the church.
I think my background helps me to understand people and where they're coming from. I worked night clubs, banks, basically hotel security for about 17 years. The last was the Manadrin Oreintal.
It's important to keep this lobby clean and presentable. As well as myself, because I am the first person that represents this building, this church, and our God. And it's important to me to constantly be aware of that.
What do you like best about your work?
I love the people I work with. We have a wonderful team here. And I like dealing with the people that come in and out of here.
What do you like to do when you're not at W83?
I go home and walk my two dogs, the two poodles that we have, my wife and I. We love going to the beach, or our favorite restaurant. And we have a lot of great nieces and nephews, 17 of them, so we have family.
What's your favorite sports team?
Come on, you know it's the New York Yankees! I've been a Yankees fan for 65, 67 years. And I actually was a baseball player, I was scouted by the Yanees once. In high school I was scouted. I realized that wasn't my calling. I was good, but not great, and you gotta be great.
What's your favorite book?
It's gotta be the Bible. I'm not a big-time reader, unfortunately, but that book I read each day. My favorite: John, chapter 14.
What do you want people to know about W83?
From my standpoint, it's a Ministry Center. And I'm absolutely blessed beyond comprehension with this work that I have here.
---

• Come work with us: We are looking to fill a couple of positions. If you know anyone who may be interested in being a Pastoral Resident or Elementary Coordinator, have them submit their resume.

• Join the next Social Discussion, Aug 22: Join us as we continue in a series of discussions around our singles community. Whether single, married, divorced or engaged, everyone is welcome as we discover how we all, in community, make up the body of Christ.

• Hang out at the next West Side Social, Aug 22: We love having the chance to hang out with you. Join us at e's Bar, just north of W83, to enjoy complimentary appetizers and a cash bar while meeting new friends. Let us know you're coming!

• Help to setup and serve a meal to guests at All Angels Church: On Sundays, volunteers will set up tables and chairs, serve a meal to guests who are both homeless and homed, and clean up.

• Become a mentor for teen moms with YoungLives: YoungLives offers teen moms relief from the isolation and struggle of their daily lives and hope for the future. Volunteers meet regularly with their mentee through weekly group activities and individually.

• West Side Dads starts up next month, Sep 14: Whether you are a dad of kids at home, a dad of adult children, or you're a dad-to-be, you are invited to join us as we explore what it means to support and lead our families to be formed in Christ's image.

• Attend Safe Families info session, Sep 25: Learn how you can serve as a volunteer and come alongside overwhelmed families. The roles are flexible and volunteers can offer support according to their skills, interests, and availability.

• Consider hosting or leading a seven week Beta Group: Beta Groups are new groups created to welcome newcomers and connect others into Redeemer's community. Fill out the form to have a pastoral staff contact you to discuss possibilities.