Redeemer West Side Update
One of the more vivid images in the Bible is found in Ezekiel 37 where God gives the prophet Ezekiel an image of a field covered in dry bones. The context in which this scene plays out is that Israel was in exile, their city (Jerusalem) and temple, which were the focal point of their national and religious identity, had been destroyed. In other words, they had no home, no identity, no purpose, no future, no hope. It is into this hopeless situation that God asks one simple question: Can these bones live (37:3)?
The question seems cruel as the obvious answer is no. But in his question, God is pressing Ezekiel (and us) to look beyond our circumstances and ask ourselves whether God is loving and powerful enough to bring death out of life; hope out of despair. Many of you personally struggle with addictions or destructive patterns or are walking with someone whose life feels like a field of dry bones. So in this post-Easter world we can respond to God's question with a confident, "Yes, these bones can live!" by remembering that Jesus died in our place and rose from the dead and will one day renew the whole world.
Then he said to me: "Son of man, these bones are the people of Israel. They say, 'Our bones are dried up and our hope is gone; we are cut off.' Therefore prophesy and say to them: 'This is what the Sovereign LORD says: ...I will put my Spirit in you and you will live, and I will settle you in your own land. Then you will know that I the LORD have spoken, and I have done it, declares the LORD.' " - Ezekiel 37:11, 12-14
In Christ,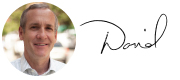 Rev. David Bisgrove
West Side Congregation Lead Pastor
---
Steven Johnson
New York City Rescue Mission
Hope For New York's Story of Hope
Steven Johnson spent almost 30 years of his life in and out of prison, addicted to drugs, masking longstanding feelings of abandonment and resentment.
Then, six months ago, Steven came to the New York City Rescue Mission. Today, he works in the kitchen at the Rescue Mission and runs three times a week with Back on My Feet.
"I will continue to say I have nothing to do with it," Steven said. "If I can take people through some of the hardships I went through in my life to show them how wonderful and powerful God is to change and work with a person like myself, I'm telling you, it's awesome. He's amazing."
Watch Steven's story of hope at hfny.org/easter — and give to make more stories like his possible!
---
• West Side Town Hall this Saturday: Saturday evening we will be discussing what the vision is for the West Side Congregation moving forward. We will also do some preparation for the May 20 Congregational Meeting.

• Start preparing for the Congregational Meeting: Members, it's important that you start becoming familiar with the proposed motion and bylaw changes. You can start reviewing them and will have an opportunity at the Town Hall to ask clarifying questions.

• Serve others through the Diaconate Meal's Ministry: If spreading love through food is something that interests you, the Diaconate's Meals Ministry is in urgent need of volunteers. Those willing to cook and deliver a meal to a congregant in need should contact Christine at [email protected]

• Express doubts about Christianity at the West Side Cafe: The West Side Cafe is an open space where people who have doubts about the Christian faith can explore the answers to their questions. Every Tuesday at 7:00 at the W83 Ministry Center.

• Thank you from Redeemer Lincoln Square: Redeemer Lincoln Square launched last week with over 900 in attendance, many of which were new to church. Thank you for your support and prayers throughout the launch! We're excited to see the ways God will work through this new community.

• Attend Spring Benefit: Join Hope for New York's Young Supporters on May 9 for our Spring Benefit! It'll be an evening of inspiring stories, farm-to-table hors d'oeuvres & drinks, and great music! Tickets can be purchased online.

• Visit homebound or chronically ill elderly neighbors: The New York Dream Center exists to serve New Yorkers right where they are to where they dream to be. Residential Assistance is a program focused on visiting elderly men and women in their homes to serve them, at no cost, in whatever way they need.

• Participate in a Local School's Community Mural: Volunteers will assist with wall prep at a local school in Far Rockaway. Wall Prep means creating a clean surface for the students' collaborative mural masterpiece, and includes: removing dirt and grime; scraping chipped or peeling paint; applying a coat of primer over whatever remains; and creating a grid.