Redeemer West Side Update
Good Friday is a time when many churches reflect on what has come to be known as "The Seven Last Words of Christ" (It is finished, I thirst, etc). But on this first Monday after Easter what is the "first word" we hear from Jesus? "Peace be with you" (John 20:21). Why is this important? Because the word Jesus utters (shalom) means multi-dimensional flourishing and fulfillment — spiritual, physical, emotional, social, cultural. In other words, when Jesus utters this word he is affirming that his resurrection is a down payment on the restoration of all these dimensions under his power and reign. Therefore, shalom is perhaps the basic characteristic of the future kingdom of God, the healing of all that is wrong with the world.
So on this Easter Monday, with yesterday's affirmation of "He is Risen" in tension with today's turmoil swirling around and inside of us, let us find hope and courage in Jesus' word of peace. As Philip Yancey wrote:
There are two ways to look at human history… One way is to focus on the wars and violence… and tragedy and death. From such a point of view, Easter seems a fairy-tale exception… There is another way to look at the world. If I take Easter as the starting point, the one incontrovertible fact about how God treats those whom he loves, then human history becomes the contradiction and Easter a preview of ultimate reality. Hope then flows like lava beneath the crust of daily life.
May God's peace be the lava flowing beneath your life today and always.
He is Risen indeed! Hallelujah!

Peace I leave with you; my peace I give you. I do not give to you as the world gives. Do not let your hearts be troubled and do not be afraid. - John 14:27
In Christ,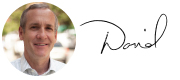 Rev. David Bisgrove
West Side Congregation Lead Pastor
---
Redeemer is becoming three particular churches. In this video our pastors address one of six key questions people are asking.
Why is this change happening so quickly?
On redeemer.com we have created a page "Preparing to Become Three Churches". On this webpage you can find:
---