Redeemer West Side Update
This week, I was reading Exodus 16 when God sent manna and quail to his people in the desert. The passage describes how the whole community looked toward the desert "and there was the glory of the Lord." In the midst of their grumbling, he showed them glory. In the scarcity of the desert, he brought an abundance of food.
Living in a post-Easter world is to know that Jesus' resurrection is God's glory in the desert of the world. Our grumbling, doubt and fear are met with the abundance of Jesus' resurrection hope. The risen Jesus is God's manna sent from heaven, the presence of his Spirit is our daily bread, and the community of his people is our family who, one day, will arrive together in God's promised land where his glory will reign like the sun.
Then Jesus was led by the Spirit into the wilderness to be tempted … [who] said, "If you are the Son of God, tell these stones to become bread." Jesus answered, "It is written: 'Man shall not live on bread alone, but on every word that comes from the mouth of God.' " — Matthew 4:1-4
In Christ,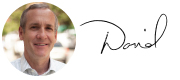 Rev. David Bisgrove
Redeemer West Side Senior Pastor
---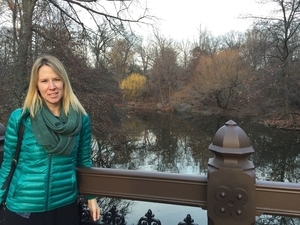 Heidi Manteuffel
Connections Team
Redeemer has been an amazing way to get plugged in and make lifelong friends in what could be a very isolating city.
Heidi Manteuffel is from Wheaton, IL. In an attempt to escape the cold, she attended Pepperdine University in Southern, CA. After living in Santa Monica, CA for several years, she and her husband, Hunter, moved to the Upper West Side in July 2015 and started attending Redeemer shortly after arriving to the city.
Due to an incident at a church she attended years ago, she has learned to embrace the lesson, be the change you want to see. She felt that this church was not being friendly to the guests that were visiting each week and she almost left. However, a friend suggested that she volunteer as a greeter to help address the problem. So, that's what she did. Ever since then, she has made it a point to be a part of the Greeter/Usher Team or Connections Team at the church she attends. And, that's what she does at Redeemer. Once a month she serves with the Connections Team. She also serves with the Children's Ministry. "I love getting to know other members of Redeemer through volunteering and community," she says. "Redeemer has been an amazing way to get plugged in and make lifelong friends in what could be a very isolating city."
Heidi works as a School Psychologist providing counseling and behavioral assessments. The district she is a part of is a city-wide, special education district which provides individualized and intensive services for students with Autism, Intellectual Disabilities, and Behavioral Concerns in an effort to help each student reach his or her best potential with the right supports in place. She is passionate about working with special needs children, as well as "helping children learn about God's love and his great love story to them."
In her spare time, Heidi enjoys going out with friends to chat over coffee or dessert. A couple of her favorite places include Tessa for dinner and Magnolia for amazing desserts.
---

• MEMBERS - save the date for Congregational Meeting: On May 6, 2018 after our 11:30 a.m. worship service we will hold our annual West Side Congregational meeting to elect church deacons and elders, and review the 2018 budget. You will be receiving more information soon. Please plan on attending this important meeting.

• Tell us how you're doing: Tell us about your experiences of spiritual growth over the last year and how we can continue to support you in your spiritual formation. Take the survey today!

• Volunteer with Middle School Youth Group: Our ministry is growing! Middle School Youth Group is in desperate need of volunteers for the upcoming fall semester. Consider serving our amazing 6th-8th grade students. Contact [email protected] for more info.

• Attend West Side Dads, Apr 21: Dads from all stages of fatherhood are welcome to join us as we spend time together wrestling through what it means to encourage spiritual formation in our families.

• Sign up for Trivia Night, Apr 22: Test your knowledge with your friends and other Redeemerites at Trivia Night on Sunday, April 22 at 6:30 p.m. $2 goes towards snacks and prizes.

• Serve as a mentor for new and expectant moms with HFNY: Serve as a female or family mentor for new and expectant moms. Days and times are flexible.

• Join CFW for A Theology of Creative Process, Apr 25: This workshop is designed to inspire both artists and non-artists to re-examine their work and seek out ways to become more creative.

• Mentor male students with HFNY: Young Life at Harlem Village Academy involves both middle and high school students. Mentor these young men regularly after school from 5 to 7 p.m.

• Attend Job Search Round Table: Job seekers are welcome to join us for networking, prayer, and spiritual encouragement. Each week our speaker shares on a theme relevant for all industries.

• Register for Career Direction Workshop, May 12: Find a career that fits your personality and interests. This all-day workshop includes the results of your Strong and MBTI assessments processed with a trained counselor. $175 Early Bird ends April 22.

• Knit and crochet with HFNY and BMWC: This is a great opportunity to build relationships with women of the Bowery Mission Women's Center. Mondays from 7 to 8:30 p.m.