Hope for New York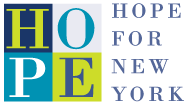 One of our callings as a congregation at Redeemer West Side is to love and serve our neighbors — which is why we partner with Hope for New York.
Hope for New York is a separate 501(c)(3) non-profit that provides volunteer and financial resources to 50+ affiliate organizations across the city, serving populations including at-risk youth, the homeless, the elderly, and new immigrants.
At Redeemer West Side, we are coming alongside people with disabilities, youth at risk, immigrants, homeless men and women, women and families in crisis, and communities in need by partnering with the following HFNY Affiliates:
A House on Beekman
A House on Beekman seeks to support the children and families of the South Bronx in New York City by delivering holistic long-term care and services to break the cycles of spiritual, emotional, educational and economic poverty.
hfny.org/ahob
All Angels' Church
All Angels' Church is an Episcopal church that serves the holistic needs of homeless men and women in the church and its surrounding community through meals, Sunday worship, Bible studies, drop-in service programs, and a recovery cafe.
hfny.org/allangelschurch
Avail NYC
Avail NYC provides free, confidential care and resources for men and women making a decision about an unexpected pregnancy or seeking support after an abortion experience.
hfny.org/avail
Do For One
Do For One promotes stronger communities and richer lives by bringing people excluded from freely given support into healthy and lasting relationships.
hfny.org/doforone
Don't Walk By
Don't Walk By is an annual collaboration of faith-based organizations — all partners of Rescue Alliance — that are committed to serving the homeless and offering them an alternative to living on the streets.
hfny.org/dwb
Safe Families for Children
Safe Families for Children creates extended family-like support for families in crisis through a community of compassionate volunteers.
hfny.org/safefamilies
The Bridge
The Bridge offers transitional housing and supportive programs for men and women with mental illness, histories of substance abuse, the homeless, and persons with HIV/AIDS.
hfny.org/thebridge
The Open Door
The Open Door empowers immigrants to reach their full God-given potential to successfully integrate, participate, and contribute to the well-being of our society.
hfny.org/opendoor
YoungLife, YoungLives, Capernaum
Young Life is a non-denominational Christian ministry that reaches out to adolescents. YoungLives focuses on pregnant and parenting teens. Young Life Capernaum focuses on teens with intellectual and developmental disabilities.
hfny.org/younglife
Find more volunteer opportunities (for individuals, groups, and families).