Ronalda Nicholas
Nursery Coordinator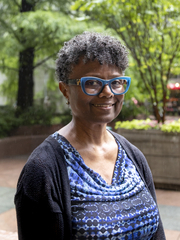 Ronalda was born and raised in Philadelphia, PA. She moved to Manhattan in 1971 to pursue her B.A. in theatre from Finch College. After graduating from Finch, she moved to California and attended the American Conservatory Theatre in San Francisco, became Miss Black America of Los Angeles and California, and then went on to complete her M.F.A. in acting at UCLA. She returned to New York and completed her Master's and Doctorate in Performance Studies from NYU. She has taught ESL at Baruch College using drama to teach English and was an adjunct professor of Public Speaking at Nyack College, King's College, and Gordon College.
Over the years, she has enjoyed working with, teaching, and caring for kids from infancy to adolescence in summer camps, VBS, and drama programs. She implemented and directed the first stage performance with kids at IS89 in New York and the first Popcorn Puppet Festival in Tribeca's Washington Market Park as co-director of special events on the Park Board. She has a passion for ministry and completed her Master's of Christian Ministry at Gordon-Conwell Theological Seminary. When her pastor, evangelist, and missionary grandfather asked her as a young adult what she wanted to do in life, she replied "something to do with theatre and the Bible." She truly loves integrating theatre and theology to communicate the gospel of Christ and his love.
Ronalda first served with the West Side Children's team on the nursery staff in February 2018. She officially joined the West Side staff in May 2019 as our new Nursery Coordinator. "I love caring for our children, parents, and staff as well as sharing the love of Jesus with them," she says. "It's exciting to serve with people that have the same passion. They not only love Jesus, but express that love by loving one another!"
She has one adult son and a grand kitty. She enjoys going to the theatre, walking by the river, good vegan food, and spending time with her new 3-year-old Chihuahua, Peanut.