Laura Einhorn
Children's Ministry Director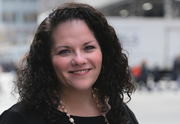 After living in Utah, California and Texas, Laura Einhorn moved to the city with her husband, Steven, in 2007. "We thought we would only stay for about a year, but now I can't imagine leaving the neighborhood I've called home for over a decade." She may be a New York transplant but her daughters were born here on the Upper West Side.
Laura earned her Bachelor's Degree from California State Polytechnic University, Pomona, and an MBA from the State University of New York at Oswego. She's worked in many industries, including management at a large public university and a global advertising agency. Most recently she was the Director of Operations at an IT support company. "Ever since I became a Christian at 14 years old, I've served in various teaching and leadership positions in children's, youth, and womens ministries.
Laura joined the Redeemer West Side staff in January 2019 as the Children's Ministry Director. "I love being part of a team committed to the Gospel and Gospel-ministry in NYC," she says. "I get to be a part of the amazing children's ministry team that is responsible for the children's classes on Sundays, KCG, Vacation Bible School, as well as various events throughout the year." Her favorite part is getting to know the children and their families.
In her spare time, Laura loves listening to music. "One day I may may stream an opera, and the next day I may listen to 80s music, classic hymns or CCM from the 90s." However, most days, she and her family are listening to Tobymac (her daughters favorite) and their VBS playlist at least once per day. Her family also loves to wander around NYC, especially Central Park and various smaller parks and playgrounds across the city.