Karen Markham
Ministry Director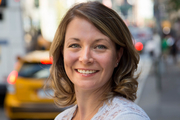 Karen Markham started attending Redeemer West Side in 2006 and joined the West Side staff in August 2016. She coordinates logistics and executes plans for public discipleship, and oversees membership on the West Side.
In 2020, Karen's role expanded to include church-wide direction of many aspects of ministry and internal operations of team culture, HR, and finance.

Karen earned her B.A. in Theatre, specializing in theatre management, at Vanderbilt University, and has worked in hospitality and as the operations manager at a tech company. When she first moved to the city, she worked at The Gin Mill — right around the corner from W83 — where she met her husband, Michael. "Great story of God's will at work," she says. "And the rest is history." Karen and Michael live at the top of Central Park with their three children, Claire, Henry and John.