Ellen Boker
Director of Care & Counseling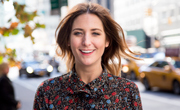 A native of the deep south, Ellen moved to NYC in 2014. She received her undergraduate degree in History from Mississippi College and received her masters in Marriage and Family Therapy (MFT) from Trevecca Nazarene University in Nashville. Before moving to New York City she worked in full time ministry for 15 years in various church and ministry settings. Ellen joined the West Side staff in December 2016 as Community Group Director. Previously, she worked with Community Groups at Redeemer Downtown as well as a counselor at Redeemer Counseling Services.

In her role as Director of Care & Counseling, Ellen provides oversight, support, and pastoral care for the community groups, women's groups, and the Diaconate. She is a natural counselor, empathizer, and fun-maker and she enjoys walking with people thorough all seasons of life.

In her free time, Ellen enjoys listening to live music, traveling to far-flung places, drinking loads of coffee, going for runs and spending time with her husband in Brooklyn.