David Bisgrove
Senior Pastor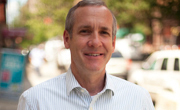 David Bisgrove grew up in New Jersey and moved to New York City for graduate school in 1986. He started attending Redeemer in 1989 and became a founding elder and trustee. David and his wife, Alice, met at a Community Group Sunday brunch through mutual friends. They now live on the UWS with their daughters, Mary Claire and Charlotte.
David took seven years of classical trombone and five years of classical piano lessons. He also sang a solo in the earliest days of Redeemer, long before YouTube!
David has a M.B.A. and Master's in Public Health from Columbia University and previously worked in healthcare finance and administration. He began working at Redeemer as the director of finance and operations in 1998, while also pursuing his M.Div. from Westminster Theological Seminary. He was ordained in 2005 as an assistant pastor who oversaw worship and evangelism, counseling, stewardship and family ministries. Now as Senior Pastor of the West Side congregation, David loves standing at the door on Sundays talking to people on their way in and out of worship. He's a big fan of golf (when he can make it out of the city) and of going on family bike rides to Pier i along the Hudson. And you might also find him at Joe's Coffee on Columbus Ave.