Danielle Allan
Communications Manager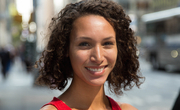 Danielle Allan was born in Oakland, CA but spent the formative years of her life in Ashland, OH. Here is where God really grabbed a hold of her heart and where she met her husband, Jon, in high school. She earned her B.A. in Graphic Design and worked as a Leasing Consultant at an apartment complex in Columbus, OH before moving out to the city in 2015.
In her role, Danielle is responsible for overseeing all communications to the West Side congregation and encouraging everyone to participate in seeing the gospel take root on the Upper West Side. She also supports Senior Pastor David Bisgrove and Executive Pastor Drew Field as well as the West Side team.
In her spare time, Danielle enjoys reading, catching up with friends over games or food, exploring new places with her husband and doting on her nieces whenever she gets the opportunity (which is not often enough).