Bijan Mirtolooi
Associate Pastor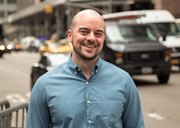 Bijan Mirtolooi's name is Persian, but he was born right here on the UWS of Manhattan. His family moved to California when he was two years old, but after high school he moved back to the Northeast. Bijan previously worked as the college ministry director of a church in New Jersey.
Bijan came on staff at Redeemer in 2009 and has worked in youth ministry and on the WS Community Group staff. He earned an M.Div from Westminster Theological Seminary, a Th.M from Princeton Theological Seminary, and is currently a D.Min candidate at Fuller Theological Seminary.
In his role as Assistant Pastor, Bijan oversees the West Side congregation's initiatives in community formation, discipleship and equipping. This includes providing oversight for the community group staff, pastoral care, and developing content and teaching classes that aim to help West Siders understand and experience the implications of the gospel for all areas of their life.
"Loving books, I always enjoy browsing at Book Culture on Columbus Ave.," says Bijan. "I do lots of reading for work. But leisure-time reading usually includes biographies and narrative non-fiction." He lives with his wife, Michelle, on the Upper West Side.