Alan Charnock
Faith & Work Intern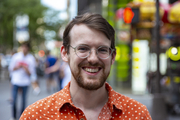 Originally from Texas, Alan Charnock moved to New York City in 2011 with some friends in pursuit of theatre. "We wrote some plays, started a theatre group, and some of us worked off-Broadway." Though most of them have moved on to other things, theatre is still a big part of their lives. Alan attended the University of Dallas and received a Bachelor of Arts in Drama and English and received a Master of Arts in Biblical Studies from Reformed Theological Seminary.
Alan joined the West Side team in July 2019 as a Faith & Work Intern. In his role, he helps facilitate the Gotham program on the West Side, as well as contribute to other Faith & Work classes, programs, and general pastoral care.
When he's not putting in work at the office, he can be found gardening in the backyard or reading books while drinking a cup of coffee. Alan also enjoys spending time with his wife and kids walking up and down Amsterdam Avenue, browsing at Westsider Books, and walking through Central Park to Belvedere Castle, where he proposed to his wife.