Programs and Curricula
Our Children's Ministry offers programs during services on Sundays for children from birth to fifth grade as well as programs during the week. Click on the links below to learn more about our programming.
Nursery
We offer a developmentally-appropriate nursery curriculum for infants through young 3-year-olds. We strive to provide a safe and loving environment for your child so that you are able to worship during the service. Each of our classrooms are staffed with two fully-trained staff members as well as volunteers. Babies and toddlers will be held, fed, diapered, played with and loved upon. All nursery classes are divided by age and development.
Download our 2018-2019 schedule to see your child will learn each week.
To receive additional information, please contact westchildren@redeemer.com.
Joanne Chung
Nursery Coordinator
Preschool
Here at Redeemer West Side, our Preschool classes use The Gospel Project curriculum. The Gospel Project immerses kids in scripture and into the love of God. The children learn that the Bible is one big story about God's love for them through Christ. This school year, we will exclusively be going through the New Testament.
The creator of The Gospel Project, Ed Stetzer says, "We created The Gospel Project because churches had a desire to go deeper, not just for the knowledge, for the transformation. So we're providing a resource that takes people deeper into Scripture so they know the big story of what God had done in Christ and the transformation flows out of that experience of new life and the knowledge of the Good News of Christ."
Download our 2018-2019 schedule to see what your child will learn each week.
If you would like more info about what your child is learning, contact Julia at julia.boyes@redeemer.com.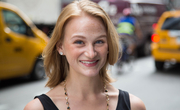 Julia Boyes
Preschool Coordinator
Elementary
Elementary students (K-4th grade) use Lifeway's The Gospel Project curriculum. The Gospel Project aims for heart transformation through the gospel as children see how the gospel is present in the entire Bible,"not just a collection of stories, but one unified story — God's story of redemption." Learn more at www.gospelproject.com.
It is our prayer and deepest desire that the Lord would use this curriculum and lesson format to help your kids go deeper into God's word, grow in the gospel of Christ, and then be able to share the joy and love they have received from God with others.
We invite you to participate in your child's experience each Sunday through volunteering and utilizing The Gospel Project for Kids Family app (downloadable on iTunes).
Download our 2018-2019 curriculum schedule to see what your child will learn each week.
For more information about what your child is learning, contact Eunice at eunice.chen@redeemer.com.
Eunice Chen
Elementary Coordinator and Curriculum Specialist
Club 56
Created especially for fifth and sixth grade kids, Club 56 is the bridge from Children's Ministry to Youth Ministry. Built upon God's Word, these "club kids" experience truth they can stand on and leaders they can stand with! Club 56 meets at the 11:30 a.m. service only.
For more information on Club 56, contact laura.einhorn@redeemer.com.
Kid's Community Groups (KCG)
Kids' Community Groups (KCG) is designed to take Redeemer West Side kids deeper into God's word and provide a time of community with other children at Redeemer in their grade. Children go through a gospel-centered curriculum with a focus on worship, Bible study, Scripture memory, prayer, catechism and community.
Each week, kids begin with worship in the sanctuary, break out by ages into classrooms, and then split into even smaller groups for discussion and prayer. Dinner is provided.
Contact Laura, at laura.einhorn@redeemer.com, for more information.
Wednesdays from 4:15 p.m. to 6:00 p.m.
Parent volunteers
To ensure that all of our children receive the attention they need, we ask parents to sign up to volunteer at least three Sundays per year. Please sign-up to volunteer in the Nursery, Preschool or Elementary classes. We are grateful for your willingness to work in partnership as your children grow in their faith.
---
More information