Programs and Curricula
Programs and Curricula
**Because of COVID-19, our in-person classes have been suspended until further notice.**

Our Children's Ministry offers programs during services on Sundays for children from birth to sixth grade as well as an after-school program on Wednesdays. Click on the links below to learn more about our programming.
---
Nursery
Nursery uses songs, visual aids, sensory interactions, and crafts to teach children that God made us, God loves us, and God cares for us! Our curriculum helps early learners become rooted in God's word as they take their first steps in his wonderful world! If you would like to know what exactly your little one is learning each week, please click here for our curriculum schedule.

Preschool
Preschool uses The Gospel Project curriculum by Lifeway. The Gospel Project immerses kids in scripture and into the love of God. The children learn that the Bible is one big story about God's love for them through Christ.

Besides a lesson, our preschoolers get to have creative play time, learn memory verses set to motions, worship and make crafts. The children are encouraged to meet new friends, volunteer during lesson time and reflect Jesus' love by loving their neighbors. If you would like to know what exactly your preschooler is learning each week, please click here for the curriculum schedule.
Areo Keller | Early Education Coordinator
[email protected]
Elementary
Like our preschoolers, elementary students (K-5th grade) use Lifeway's The Gospel Project curriculum. The Gospel Project aims for heart transformation through the gospel as children see how the gospel is present in the entire Bible, "not just a collection of stories, but one unified story—God's story of redemption."

Each week in class, your child will have a time of praise and worship, a gospel-centered lesson and the opportunity for small group time. In small group time, volunteers lead children through application activities of what they have learned. In class, students get to know their peers and pray together.
It is our prayer and deepest desire that the Lord would use this curriculum and lesson format to help your kids go deeper into God's word, grow in the gospel of Christ and then be able to share the joy and love they have received from God with others.
If you would like to see what your child is learning each week, please click here for the elementary curriculum schedule.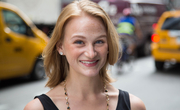 Julia Boyes | Elementary Coordinator and Curriculum Specialist
[email protected]
Club 56
Created specifically for fifth and sixth grade students, Club 56 is the bridge from West Side Children to Youth Ministry. Built upon God's word, these "club kids" experience truth they can stand on and leaders they can stand with! This spring 2021 semester, Club 56 will meet on Zoom Sundays at 11:00 am.
Our Communicants Class, whereby the children affirm on their own the promises made for them by their parents at infant baptism and as a result become communing members of the covenant body, started on January 24. To join, email [email protected]

Kids' Community Groups (KCG)
Kids' Community Groups (KCG) is designed to take kindergartners through fifth graders deeper into God's word and provide a time of community with other children at Redeemer. Children go through a gospel-centered curriculum with a focus on worship, Bible study, scripture memory, prayer, catechism and community. This spring 2021 semester, KCG will meet on Zoom Wednesdays from 4:15 to 5:00 pm. Click here to register.

---
More information